Mothers worldwide make an enormous personal sacrifice by bringing a child to the world. Yes, moms generally love being moms, but sons and daughters often take them for granted too often.
Your momma gave you life, so what are you gonna give her back? It better be something good. Mothers all make a big deal out of your gift, whether it is great or not.
You want to really impress and provide something useful, so they know you love her. You wanna to get her the nicest thing, you wanna give something from the list of most affectionate gifts mom can receive. Ecstatic gratitude incoming.
The Aeropress is a low-cost coffee brewer that's similar to a French press because it utilizes a plunger to filter and brew the coffee.
However, the Aeropress produces a much better-tasting cup of coffee than a traditional French press in large part because the water and coffee are immersed together in the Aeropress chamber before getting pushed through the filter.
Luxor Linens` luxury bedding and bath supplies are the perfect gift for Mother's Day. Check out our favorite robe below! They are luxurious and you can add a personal touch of custom monogramming!
Sweet Defeat is an all-natural, clinically proven lozenge that stops sugar cravings within seconds. It dissolves on the taste buds on your tongue preventing sugar cravings within seconds, and you can use either prior to indulging in a craving, or after a meal or snack to stop the craving from continuing. We all know sugar is addicting and can send us into quite the frenzy!
The new children's picture book, My Mom Has Two Jobs, would make a wonderful gift for working moms. The book celebrates all of the jobs that moms do both inside and outside of the home, so it's an inspiring book for kids while at the same time honoring their loving and dedicated moms.
In the book, children proudly describe how their moms care for them in a very special way, while also making the world better through their careers. The book highlights moms in a wide range of professions, including a teacher, engineer, police officer, doctor, secretary, dentist, firefighter, nurse, lawyer, waitress, military sergeant, veterinarian, and pilot.
My Mom Has Two Jobs gives moms a platform to talk with their kids about their work, and to help kids see how moms bring the same love, passion, and dedication to both their parenting jobs and their professional jobs.
The book is beautifully illustrated to embrace diverse moms and kids of different races, ethnicities, and backgrounds, and to show the many important roles that mothers play.
A beautiful, versatile, eco-friendly USA made lounge pant that soft as silk. Mom will feel like a million bucks and love them so much, she'll probably wear them out.
A flattering fit for every mom with a hi-low cut and made from soft, eco-friendly Modal. Versatile enough to pair with denim and comfortable enough to sleep in.
Chardonnay Go is a hilarious board game for Wine Lovers, Moms and Other Shameless People based on the viral video sensation Chardonnay Go, which was one of Facebook's top 10 most-watched videos in the world in 2016.
Says Dena Blizzard, the creator aka One Funny Mother: It's the perfect game for moms and her friends to have a girls night in. The goal of the game is to be the first to reach the elusive tasting room while participating in hilarious challenges and reciting complete nonsense. The perfect combination of the classic board game and dirty charades!
The Brave Art of Motherhood by Rachel Martin is a total life changer! You don't even have to be a mom to get help from what Rachel shared in these pages. I have followed her blog for a couple of years and have always loved her style of writing. It's like she's having a genuine, authentic conversation with you.
It's so much more than just a bunch of inspirational quotes to make you feel good for a short time. She discusses how we get stuck in patterns that start all the way back in our childhood and exposes the excuses we make to justify staying in those patterns. Then she teaches how to break the cycle and gives you the tools needed to build your confidence and live brave again!
From the beginning where she bravely bares the hard, ugly parts of her past, to the practical action steps she provides to break free from the harmful cycles we find ourselves stuck in, Rachel has filled this book with good stuff from cover to cover! This is one that I will read and reference over and over again!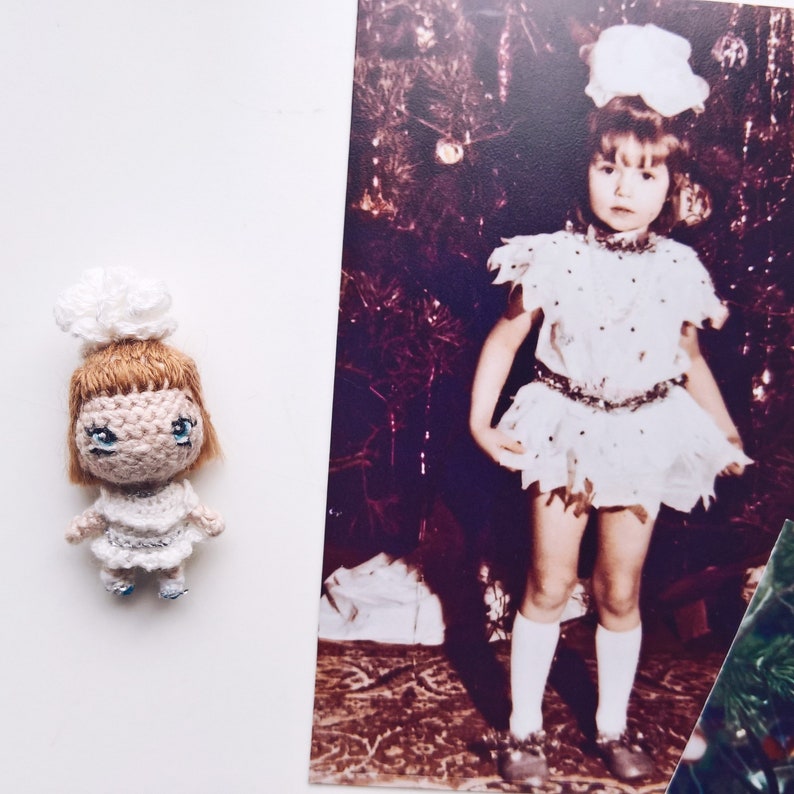 Meet the cute crochet mini version of your child. These make perfect memorable gifts for birthdays, Mother's day or just for fun!
Miniature crochet doll on wire frame in the hands. Height just about 3 cm/1.2 inches. Eyes are embroidered.
Every mother will cry with happiness when she can hug her baby doll again.
This great little wireless speaker can easily withstand grubby hands, food splatters, and the worst of the worst weather. Listen to podcasts in the kitchen, daily news in the bathroom, and music by the pool (it'll even cope with complete submersion in water). It's a great addition to any family home, and it barely takes up any space.
Most moms can barely get a sip of coffee in while they struggle to juggle everything. So, get the mom in your life this mug warmer so that she never has to tolerate lukewarm coffee ever again. It's small and affordable, and it's easy to clean. It's portable too and will do the trick so that her coffee stays hot.
Stitch & Story's personalised baby blanket knitting kit is a perfect gift for any new mum or for someone who is interested in learning how to knit. Stitch & Story are a large crafts company who love encouraging peoples creative side, this is a gift that the recipient can give that extra personal gift that will be with them for life.
French Broad Chocolate's Sweet and Salty Bundle is the perfect gift for the lady who raised you a little sweet and a little sassy. French Broad Chocolate, a chocolate company located in Asheville, NC, handcrafts all of its bars, bonbons, brownies, and everything in between from raw cacao beans imported from places like Nicaragua, Guatemala, and Peru.
The Sweet and Salty bundle brings together the Sea Salt bar – a 60g 75% dark chocolate bar with sea salt flakes from Charleston's Bulls Bay Saltworks; a 6-piece bonbon box of Salted Honey Caramels (with local wildflower honey, grass-fed cream and butter, dark chocolate, and sea salt); and a 6-piece box of our peanut butter tumblers (organic peanut butter and milk chocolate filling coated in dark chocolate and sprinkled with sea salt). It's delicious, it's sweet, it's salty, and mom is sure to love it.
QardioArm is the medically accurate, luxury, smart blood pressure and heart rate monitor. QardioArm will make a great gift for your mom or mother figure in your life! A gift from the heart, for the heart that will help look after your mom for years to come.
She can monitor her blood pressure and heart health from anywhere using the sleek and stylish QardioArm and Qardio App. The Qardio App also allows her to send her health stats directly to a family member or doctor for extra support or guidance. The perfect gift for Mother's Day, mom's birthday or just a treat for the special lady in your life, a thoughtful gift that will look after her whilst she looks after everyone else.
Fitting perfectly into mom's everyday lifestyle while providing protection and peace of mind, Medical Guardian's Freedom Guardian medical alert smartwatch provides simple, immediate access to emergency assistance anywhere in the U.S.—with no cellphone or Bluetooth needed!
With advanced GPS location tracking, should an emergency strike, help can be sent to mom's exact location—no matter where she is. To help keep friends and family members in-the-know, Freedom Guardian's companion mobile app allows users to get a hold of and communicate with mom directly through the watch. Additional features include easy-to-use text-to-speech messaging, calendar reminders and alerts, and a 3-day localized weather forecast.
The book is already receiving amazing advance praise, including a *starred* Publishers Weekly review calling the novel an "exceptional psychological thriller." This line from the review emphasizes the super interesting mother/daughter relationships in the book: Rouda gradually shifts reader sympathy for Jane with her 'complicated grief' to disgust at her toxic need for control. Selfish and judgmental, Jane has more than just boundary issues as she monitors her family's every move and email with the spyware she clandestinely installs."
Working and stay-at-home parents alike tend to have an endless list of tasks they need to accomplish. As such, the perfect gift would be one that gives them back some of their very limited time. That's why an ECOVACS DEEBOT Ozmo 930 should be on everyone's list of presents to get their mother. This robotic device can both vacuum and mop, and is activated by a simple command from the user's phone or smart home device. It also has the ability to recognize the type of surface it is operating on to maximize efficiency, plus visual mapping.
Developed by two mechanical engineers who drew upon their work in automotive sector designing cars, the 2.0 version of the Hedgehog Umbrella is designed with an innovative and strong Carbon Frame architecture to create a durable, long-lasting collapsible umbrella designed to withstand winds of 70 miles-per-hour.
Mother of All Dragons T-shirt celebrates Game Thrones character Daenerys Targaryen the mother of dragons. Since the north remembers will the dragon mother queen fall in love with Jon Snow and his house or listen to Tyrion Lannister? Or will the Stark women kill each other? Unisex sizes available in hard-to-find plus size 2xl. Winter is here! Printed on Black 100% cotton T-shirt.
Let these fun GOT Game of Thrones Dragon Eggs Candle Set add to your season premier perfect party table decorations. Each sculpted dragon egg candle approx. 3 1/2 tall; burn time 18 hours. Each Game of Thrones candle represents Daenerys' dragon egg of Rhaegal, the green one, named for her brother Rhaegar (Jon's father), Drogon, the black one, named for her late husband Drogo and Viserion, the gold one, named for her brother Viserys. Daenerys Stormborn of the House Targaryen, First of Her Name, the Unburnt, Queen of the Andals and the First Men, Khaleesi of the Great Grass Sea, Breaker of Chains, and Mother of Dragons is the mother of the dragons. (#9A687) Item in stock unless noted above.
These chic quilted carry-on bags come in black and white colors and patterns, designed to complement any luggage set. Simplily's bag designed for traveling moms are not nearly as large as typical diaper bags and are designed to fit under the seat. The bags include a changing pad with elastics that keep diapers and wipes in one place with an extra bag that is clippable on the outside for soiled clothing and other moist wipes. Both are washable and clip easily to the outside of the tote.
Disc Golf is an awesome sport to play with kids and adults. It is an outdoor sport that can be played at any level with courses in nearly every city of America. For a few dollars, parents can obtain a few discs and spend some time with their children outside either at a local course in their backyard.
Beautifully designed to be lightweight and compact, with Bluetooth wireless connectivity, hands-free calling, and over 8 hours of play time, the Paww SilkSound headphones are the ultimate accessory for the moms who don't want to compromise on sound or style.
Available for $59.99, the headphones come in four fun colors – Black Onyx, Golden Yellow, Blue Frost, and Tortoiseshell, making it the ideal accessory to complete any outfit. They also easily fold inwards and come with a handy carrying case that goes from commuting, to work, to staying at home with the family, to a night on the town away from the kids.
Available in Cerise Pink, a popping shade that mom will love, the Paww PureSound Headphones are the ideal gift for the music-loving mom in your life. The headphones are equipped with Bluetooth 4.2 technology, which creates a clearer sound and faster wireless capabilities, allowing mom to always get in touch with her family and friends. With 20 hours of play time, these fashionable headphones bring bold sound to life.
It's very hard to stick to a healthy diet and it's even harder to eyeball an accurate portion size. The Precision Elite will let Mom know precisely how much that piece of steak weighs or how much pasta she's putting on her plate. This eliminates any unwanted excess calories from her plate and keeps her on track with her eating plan. Also, help her save money by creating her own single serving snack baggies by weighing food instead of purchasing the pre-packaged snack packs.
The Life & Apples Wellness Planner is a daily planner for weight loss and healthy living. It is based on a motivational system for achieving your health goals, body and mind. The planner helps improve mental and physical health by connecting our feelings, thoughts and goals to our daily actions and tasks. It combines goal setting, meal planning, food logging, fitness tracking, measurement tracking, motivational messages, journaling and gratitude, to keep you dedicated to making a true change in your daily habits and life.
If your mother uses a 10 fry pan to cook, this splatter guard is the perfect gift for her. It blocks out any oil from splattering and can help to contain vegetables before they're cooked down. This greatly reduces her time and effort needed to clean up after cooking.
This multi-purpose silicone mat can act as a placemat, utensil rest, food cover, pot grabber and even a jar opener! If your mum cooks often, this is a great gift for her since there are so many ways to utilise it. Not only that, it is dishwasher-safe and easy to clean. It comes in a 2- and 4-pack with a 10-inch and 12-inch mat.
Contributors to this article
This post contains affiliate links. Affiliate disclosure: As an Amazon Associate, we may earn commissions from qualifying purchases from Amazon.com and other Amazon websites.