The invention of the smartphone might have helped them, but girls still need a lot. And I mean a lot of help with their daily tasks. Just to simply keep up with the schedule any teenager or young adult girl has is exhausting, to say the least.  No wonder those rich girls and female celebrities hire PAs all the time.
While suggesting that everyone hire a PA might be well beyond the budget of most girls out there, getting themselves a cool little gadget that helps is not. See the gadgets here and what can they do for her.
Who helped make this article possible?
Summer is coming! This cool dive computer gadget is designed for the next generation of divers. This smart dive computer will memorize your location and data under the sea, and you just simply upload those data to Deepblu dive log app via Bluetooth once you come back from your dive. No more paper dive logs with this cool gadget and start to dive environment-friendly.

For the studio musician on the go, nothing beats a mini-USB keyboard. Pack it in your bag and make music anywhere – the beach, a coffee shop, at school, at work. Share your latest tunes with your besties without the hassle of all the gear. Produce music absolutely anywhere. Perfect for the busy 21st-century woman!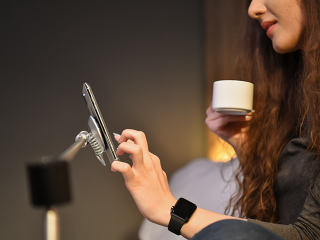 This high-tech gadget can change your entire bedroom situation. Bluesphere Smart Supporter is the first smartphone supporting system of its kind that provides everything you need without the hassle. No need for wires, and no need to deal with readjusting your arm to prevent it from falling asleep. With the versatile functionality and intelligent design it is perfect for any home interior. Women bloggers and not only, will definitely love this.
This all-pink keyboard is not only aesthetically pleasing to look at, but it is awesome to type on. The key clicks are satisfying and fast to type on, whether you are gaming or doing work. With the cushion at the end, it has the right ergonomics for female users.
Beautifully designed to be lightweight and compact, with Bluetooth wireless connectivity, hands-free calling, and over 8 hours of play time, the Paww SilkSound headphones are the ultimate accessory for the moms who don't want to compromise on sound or style.
Available for $59.99, the headphones come in four fun colors – Black Onyx, Golden Yellow, Blue Frost, and Tortoiseshell, making it the ideal accessory to complete any outfit. They also easily fold inwards and come with a handy carrying case that goes from commuting, to work, to staying at home with the family, to a night on the town away from the kids.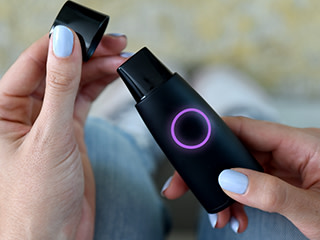 The metabolism checker that tells you how you should eat to optimize energy levels throughout the day.
Desora's unique indoor Cinder Grill uses high-tech features to cook food as evenly as sous-vide (without needing water) and has expert searing capabilities. Every meal is cooked to perfection with little effort on the part of the user, since the grill is easily operated via phone app that suggests ideal temperatures and recipes, and alerts users when their food is done. As such, home chefs can make delicious meals without prior culinary experience. She'll love this cool gadget for her kitchen!
Great for tacos, burritos, and fajitas, this taco night must-have keeps up to 24 corn or flour tortillas fresh and warm. Easy to clean in the dishwasher, it has a stylish ceramic look and a durable melamine construction. It retails for $26.99.
TORCHGRIP is the most versatile tablet stand she will ever hold. TORCHGRIP makes your tablet truly mobile, giving you the freedom to capture, create, share, and collaborate anytime, anywhere. Simple, sculpted, and lightweight, TORCHGRIP is a removable stand that allows you to hold and maneuver your tablet comfortably with one hand.
You can set your tablet just about anywhere. Use it in portrait or landscape orientations. Rotate 360° to your desired angle. Compatible with all iPads and most other tablets.. Attaches directly to the tablet or on many cases (polycarbonate, TPU, ABS plastic).
This post contains affiliate links. Affiliate disclosure: As an Amazon Associate, we may earn commissions from qualifying purchases from Amazon.com and other Amazon websites.