Enjoying the gifts mother nature has given to us, the sights to behold and the untouched spaces to be, breath, and relax in without much of civilization interfering with the experience is something that an outdoorsman lives for and appreciates over most things.
If there was some way to gift them unlimited access on demand to their own outdoors environment, that would be a great gift. But since that's not even in the realm of possibility, these gifts to make outdoorsman's activities a bit more seamless will have to make do, for now, check them out.
Tinggly is a global experience gifting company on a mission to change the culture of gifting. Strong in its belief that experiences make more meaningful gifts than things, it offers 2,000+ handpicked experiences in over 100 countries. There are 26 gift boxes with different themes and price points, each with hundreds of experiences.
The buyer can simply choose the most suitable gift box and the gift recipients will have the freedom to decide what they want to do, when and where. Experiences include cultural tours, skydiving, bungee jumping, gourmet experiences, fastcar and adventure driving, spa and beauty, landmark visits, extreme sports and many more.
Create your own movie theater anytime, anywhere! CINEMOOD is the world's first absolutely noiseless, 3" ultralight standalone projector, that converts any surface into a 12-foot magic cinema. This little device is perfect for providing outdoor lovers with some added entertainment by giving them the opportunity to project their favorite YouTube, Netflix or Amazon Prime Videos against their tent or RV at up to 12 feet.
Made by True's Biltong is the perfect snack for outdoorsman to keep them packed with protein and energized on their adventures.
Biltong is a traditional South African style of air-cured meat made with five traditional ingredients: beef, vinegar, salt, pepper and coriander and ZERO SUGAR. Made by True's Biltong is available in three adventurous flavors: Cape Town Classic (Salt, Pepper and Coriander), South African Savory (Garlic, Herb and Spices) and Little Bit of Spice (Coriander, Chili Powder and Paprika).
Have you ever wished you could sit and enjoy a fire without having to worry about the stinky smoke, dwindling flames, and almost impossible-to-extinguish embers? Radiate campfires solve all of those problems—yes, all of them. Radiate Portable Campfires are portable, convenient, and reusable. With 3-5 hours of burn time, this easy-to-use campfire will be your new outdoor must-have.
The Nomader® Collapsible Water Bottle is the perfect gift item for outdoor lovers. The uniquely portable Nomader® bottle makes it easy to stay hydrated while spending time outdoors and traveling, taking up minimal bag space, and eliminating the need for single-use plastic bottles.
Designed with a flexible BPA-free silicone body, the travel friendly reusable Nomader® bottle can be folded-up or collapsed flat to save on space, yet it's as comfortable to drink from as a hard-sided bottle. This innovative, eco-friendly travel water bottle features a patented leakproof cap, an ergonomic carry strap, and a wide mouth for adding ice and easy cleaning. As an added bonus, Nomader® water bottles are backed by a lifetime warranty.
Soundboks is the ultimate multi-use indoor/outdoor speaker, a perfect gift for the dad that likes to be on the beach, camping, hiking and more. With premium sound, the Soundboks was created to provide a portable, durable speaker, wire-free bluetooth speaker, while still having big sound so you can adapt it for anything in your life. The Sounboks is all the speakers you want in one.
After a long day of work what I and several other dad's love to do is fly our remote control helicopters outdoors. While most people think that playing with these remote control helicopters is mainly for kid's they would be quite incorrect.
The remote control hobby is actually the most popular among middle aged man, especially those who love the outdoors. In just about any city in the United States or even outside of it you can find a club of remote control aircraft hobbyists that go to the fields that the club either owns or leases from the city and fly these remote control hobby grade toys.
For most of us it's a hobby that takes up a lot of our time. There are several factors that go into it such as either building or modifying your own rc helicopter, creating and joining events with your club and then of course flying to get better at it. One of our very popular sayings that we say in our club goes like this, Growing old is mandatory, growing up is optional.
The Spigot allows people who love playing in the outdoors to confidently and conveniently refill reusable water bottles with water that is available in parks, campgrounds, and marinas. By using available water instead of single use bottled water for hydration, the Spigot can save up to 700 lbs of plastic trash on just the first filter cartridge change. The Spigot is a new category of drinking water filtration and purification device that is ruggedized, high flow, and portable.
Jöttnar make high performance outdoor clothing and were voted as one of the best small outdoor brands in the world by Gear Patrol. Their Fenrir Hooded Down Jacket is the perfect gift for any serious outdoorsman. Worn by climbers, skiers and base jumpers all over the world. The Fenrir is lightweight and can pack easily into any rucksack. Its hydrophobic 850 fill goose down can protect you from the fiercest of weather conditions.
Every true outdoorsman should, without question, own an outrageously sexy axe. If it happens to have a hand-forged head of Swedish steel and a gorgeously ergonomic American Hickory handle then all the better. The Hults Bruk Almike Hatchet is powerful enough to deal very efficiently with wood splitting jobs, but small enough to wield around with ease (even if you don't really know what you're doing!).
It's also the sort of axe that won't be out of place sitting on your mantelpiece, you know, for the times when you're not being all manly and outdoorsy!"
Dunlop Boots, I don't want to worry about my footing when I am outdoors and Dunlop boots keep my feet comfortable all day long and have a great slip protection so I can walk through anything and feel confident that I am going to stand my ground.
I am the kind of guy that takes pride in getting the job done regardless of the weather. My Dunlop Thermo keeps my feet warm all winter long, and stand up to the toughest challenges on the farm, in the oilfield, or in the snow.
I have worked in some of the harshest jobs on the planet, and the Dunlop Explorer have help me stand my ground every step of the way. The upper provides all day comfort and the Vibram outsole makes sure I get home safe after every job.
I own my own small growing contracting business and I need products that can stand up across various types of environments, my Dunlop Expanders armed with a Vibram outsole are up for any job indoors or outdoors. I trust these boots to help me rise to any challenge in front of me. with Vibram outsole
Made in the USA matters to me, that's why when I need a comfortable rain boot I choose the Dunlop Chesapeake. It is lightweight and fits like a shoe with pull tabs for easy on and off. On the trial or in the garden this boot never disappoints.
For the outdoorsman who enjoys a good espresso but wants to go remote, consider Wacaco's Nanopresso. It is a hand-powered portable espresso machine. All you need is hot water and your favorite espresso (finely ground or pod if you're using the NS adaptor) and you can create a cafe quality espresso wherever you go. Nanopresso is so small and lightweight you can toss it in your purse or backpack for a quick caffeine fix at work, on your next flight, at a hotel, or even camping.
If the outdoorsman in your life enjoys a good glass of whiskey in the woods, check out the High Camp Flask. Designed to be shared, the Firelight Flask is a 3-piece bar set that sleekly carries two insulated tumblers that attach to the 750ml Flask magnetically. Modeled after a Colt .45 this flask perfectly masters functionality and design for a better drinking experience anywhere.
If you love the outdoors — be it the woods or just your own backyard — keep yourself safe and comfortable this summer with the line of DEET-free BugBand Insect Repellents. Whether it's the original wristband, spray lotion or towelettes, you'll be warding off biting insects that carry the West Nile virus, Zika and other bacteria and parasites, including mosquitoes, flies, gnats, no-see-ums (aka biting gnats, midges or sand flies) and fleas.
BugBand uses geraniol, a natural substance produced by honeybees, for long-lasting protection. Made in the U.S.A., BugBand Band can be worn on wrists and ankles, or attached to tents, belts and more, and provide up to 120 hours of protection. Towelettes and sprays offer 2 to 4 hours of protection.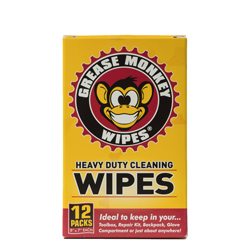 Oily bicycle chains, greasy fish bait, gunky camping pans … there's no end to what you may wind up dealing with this summer — and if there's no soap around, it makes life hard. But, Grease Monkey Wipes work harder.
Designed to tackle grease, grime, oil, road tar, adhesives and even permanent marker, the citrus formula cleans it all from hands, as well as from surfaces like stainless steel. The tough material makes each sheet last, and they even smell good and won't dry out your hands. Made in the U.S.A., Grease Monkey Wipes are perfect for any time you play dirty with bikes, motorcycles, ATVs, tractors and mowers, boats, cars and trucks.
MPOWERD's largest and brightest solar light yet is the only light on the market that is solar powered, waterproof, collapsible, and lightweight that can produce 300 lumens and last up to 50 hours on a single charge. The light has adjustable straps for easy hanging two-way mobile charging capabilities. Perfect for illuminating a campsite, deck, backyard, school, or community center.
The ultimate shirt for the outdoorsman. The Tamarack finds its roots in performance. We took our signature heavyweight micro double-knit fabric and constructed a tailored fitting shirt that moves freely and provides insulation. Wear it out to dinner or layered under your jacket on your next backcountry hut mission. The Tamarack will keep you warm, dry, and presentable. Thoughtfully designed to seamlessly transition from everyday life to adventures into the unknown.
AfterShokz's lightest open ear headphones are designed with titanium to ensure they not only fit more securely but sound better too. Trekz Airs are inspired by the demands of elite and aspiring athletes motivated by their music. Mom doesn't need to be an elite athlete to enjoy these, but she will listen to music like one with them.
The Quest Adult Electric Scooter will give riders a smooth, stable and safe commute. Three different speeds can take you up to 18 miles effortlessly while the headlight and e-brake keep you safe. The easy folding mechanism allows you to store the Quest scooter wherever you're headed.
"It a dual-use tool, and includes a 10′ long pole so you can use it as a pole saw to trim limbs in high places around the yard.
As an alternate use, the blade can be detached from the pole and becomes a 28 long portable saw. This format is ideal for cutting wood along trails, and for use in camping.
It's positioned at a great gift price level, as well. "
The crew over at Nexgen Outfitters is passionate about solving outdoor problems with high quality gear, and while designed as a whitetail hunting pack that's just the start of uses for the Caddy pack. It carries comfortably with lots of adjustment to fit just right, and with 18 thought out pockets everything is truly at your fingertips. To cap it all off the foam back pad not only helps air flow but allows the pack to stand on it's own AND a couple toggles hooked to the lid transforms the lid flap into a shelf to keep the most used gear accessible. All those features, with absolutely NO corners cut on materials or construction for only $100! And they've added another color option!
Outdoors men and women have to be in tune to the weather and changing conditions. This unit was designed as a wind tool for shooters, but is a complete weather station that any outdoor person would find indispensable. Measures temperature (C or F), wind speed, pressure, altitude and calculates wind chill; average/min/max values are also stored.
The rotating head, oversize buttons, back light and auto-power off completes the user friendly features all for $75. If current wind speed and temperature are enough features, the base model provides accurate measurements in an easy to use format for only $30. The men and women at nexgenof.com are committed to providing quality products and superior customer service for outdoor enthusiasts.
I promise your favorite outdoor friend could use another lightweight and multi-function flashlight. This flashlight comes in at barely 7 oz and just over 5 while delivering functions typically saved for larger or more expensive lights. Two types of light can be adjusted for flood or spot light dispersion along with a class III 650 nM wavelength laser. AND the batteries are included for $40.
The men and women at nexgenof.com are committed to providing quality products and superior customer service for outdoor enthusiasts.
Protect your gear from absorbing the odors that alert wary and/or dangerous game to your presence. Scent-Safe liner acts as an odor fortress, keeping unwanted odors out and cover scents in.
Constructed of heavy duty 300D Honeycomb rip-stop fabric with tough outer coating for durable, long-lasting performance. Removable airtight and odor proof liner is also water resistant. Features integrated carry handles with a removable padded shoulder strap for hassle-free travel and storage, and two large zippered pockets.
The men and women at nexgenof.com are committed to providing quality products and superior customer service for outdoor enthusiasts.
Contributors to this article
This post contains affiliate links. Affiliate disclosure: As an Amazon Associate, we may earn commissions from qualifying purchases from Amazon.com and other Amazon websites.