Someone who loves the outdoors would love nothing more than to get away from urban centers and their defining characteristic: technology. So, at first sight, is a little puzzling to determine just what kind of gift to give to an outdoor lover, like, their own private acres of untouched natural valley land full of green? Yeah, they'd wish.
But it not really that complicated. Outdoor lovers only want something that would make their treks a little easier. To reach their destination with a bit more convenience and comfortability without negating all the wonderful sights and sounds they enjoy so much from nature. We have a lot of ideas about those gifts are, and we share them with right here.
Crooked Cactus' Recover Collection offers deep penetrating pain relief and faster recovery for sore or overworked muscles. Trusted by PTs, chiropractors, massage therapists, physical trainers, athletes, and anyone looking to ease the aches and pains of an active lifestyle. Recover Salve is a topical infused with hemp-derived full-spectrum CBD extract, therapeutic essential oils, and menthol- all known for their analgesic, restorative, and circulatory properties – to deliver a faster and more effective muscle recovery process.
Most people who fear their day job is beginning to dim their passion for adventure try a new workout, or maybe the curry place down the street. Van Hemert embarked on a six-month, 4,000-mile, human-powered expedition from the Pacific rainforest to the Arctic coast. With her husband Pat, she covered some of the most remote and rugged places remaining on earth by homemade rowboat, ski, foot, raft, and canoe.
The Glacier Wellness CBD Muscle Cream is perfect for any outdoor lover who isn't afraid of getting a few scrapes and bruises along the way. Our unique Freezing Point CBD Muscle Cream goes on smooth and doesn't leave an oily mess behind. This product has been specially formulated to be a safe and effective method for muscle relief for all types of pains.
Few things are more important than staying hydrated while out and about in the woods, so the Welly Original Mug is sure to be on an outdoor lover's gift list. The mug is made with bamboo, a natural, renewable resource, and comes with a removable infuser to brew tea or naturally flavor water with fruit. The BPA-free flip caps come in a variety of colors, and the vacuum insulation keeps drinks cold for up to 24 hours and hot for up to 6. Welly also 3% of all sales to water projects that bring wells and other long-lasting clean water solutions to communities worldwide.
Whether they're heading to the beach or up to the mountains, some of an outdoor lover's most precious cargo goes in their cooler. The ICEMULE JAUNT is a serious cooler for fun times on the go. Travelers will be able to let their exploration begin, leaving their hands free to enjoy colder beverages. ICEMULE Coolers are engineered for maximum durability and unrivaled portability. The ICEMULE JAUNT keeps drinks ice-cold for up to 24 hours. With extra dry storage along with 9-liter capacity, it carries precisely what you need it to, without the extra bulk. ICEMULE's goal is to break boundaries and beliefs on where coolers should be able to go, so it's the perfect gift for that traveler who will go anywhere!
MomMe And More Women's Camping Leggings are a fun fashion piece for any nature lover. Adorable printed leggings with scenes of hiking trails, ponds, fish, bear, owls and more. Extremely comfortable and very soft fabric with amazing stretch to fit all size women. Great for the outdoor enthusiast.
Mobile Warming offers a great line of Bluetooth heated gear for all outdoor activities. The clothing can be heated through a specialized app and the Bluetooth capability of your smartphone. Turn it up when you get cold, turn it down when it gets warmer. So, for example, you can start at the highest temperature on an early-morning walk, but when the sun starts coming up, or you work up a sweat, you can turn it down. And the range of clothing includes not just jackets, but pants, shirts, baselayers, socks, and more. Great for hiking, walking the dog at night, or any other outdoor activity.
The Acme Made North Point Roll-Top Backpack, makes it easy to take all of your gear wherever it needs to go. Beneath its sleek and sophisticated appearance, it has smart features in all the right places. With its large, interior storage space, dedicated laptop compartment, and smaller storage pockets, this bag is ideal for all of your travel needs.
Most of us remember to use sunscreen when we're at the beach or lake, but applying that protective lotion doesn't stop mosquitoes, sand fleas or chiggers from biting you, leaving behind nasty, itchy welts and maybe even disease. BugBand insect repellent bands are plastic, DEET-free bracelets that can easily be worn on wrists, ankles, backpacks and more. They use natural geraniol to keep bugs away, are water resistant and reusable, with up to 120 hours of protection. They come in multiple colors, Glow-in-the-Dark, and family packs, and are made in the U.S.A.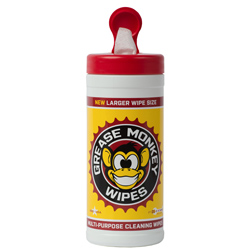 Greasy camping pans, oily bicycle chains, gunky barbecue grills … there's no end to what you may wind up handling this summer — and if there's no soap around, it makes life hard. But, Grease Monkey Wipes work harder. Designed to tackle grease, grime, oil, road tar, adhesives and even permanent marker, the citrus formula cleans it all from hands, as well as from surfaces like stainless steel. The tough material makes each sheet last, and they even smell good and won't dry out your hands. Made in the U.S.A., Grease Monkey Wipes are perfect for any time you play dirty with bikes, motorcycles, ATVs, tractors and mowers, boats, cars and trucks.
Proclaim your love for the outdoors with our "Smells Like Green Spirit" tee. With a message inspiring freedom and revolution all at once, you can wear our soft and lightweight tee on a hike or to a protest. And for every purchase, we donate a portion of our profits through the Pledgeling Foundation's Give and Grow app to a charity or charities you choose at checkout.
Our 2-in-1 Phone Charger Lanterns combine two products in one: ultra-bright inflatable utility lantern and portable solar phone charger. It's the perfect all-purpose solar device to light up your campsite, family tent, or provide back up power to your devices when you need it most. 100% waterproof and designed for use after disasters, this will be Dad's must-have gear for on the road, in the wilderness, and just in case.
Lead your team of family, friends and neighbors to victory as you play organized sword fighting games using (harmless!) glowing foam weapons. For ages 8+, with 28 game pieces for 2-20 players – choose from 10 different ways to play. This is the perfect interactive, screen-free game for team building, icebreakers and developing strategy for large and small groups. It makes physical exercise extra fun! Retails for $49.90
Play your favorite pool games at night using this glow-in-the-dark outdoor game kit – it's the new way to experience 12 different games including Sharks & Minnows, dive games, pool rings, swimming rings, pool dive games, treasure hunts and more! It is easy to set up for hours of fun: simply twist each light on, toss it into the water and you're ready to throw a pool party! These games are the perfect outdoor activities to keep youth entertained. Retails for $49.90.
Play Capture the Flag in the dark using futuristic lights — with 25 light-up game pieces, 12+ hours of batteries, and 12 different ways to play! For ages 8+ and 4-20 players (with game variations), this game helps develop teamwork, social skills and strategy. Physical exercise becomes part of the fun as players run, hide and chase each other to win. It is playable anywhere with space to run and makes a unique group game for family reunions, birthday parties, leadership retreats, corporate retreats, youth organizations, and more.
The Nomader® Collapsible Water Bottle is the perfect gift item for outdoor lovers. The uniquely portable Nomader® bottle makes it easy to stay hydrated while spending time outdoors and traveling, taking up minimal bag space, and eliminating the need for single-use plastic bottles. Designed with a flexible BPA-free silicone body, the travel friendly reusable Nomader® bottle can be folded-up or collapsed flat to save on space, yet it's as comfortable to drink from as a hard-sided bottle. This innovative, eco-friendly travel water bottle features a patented leakproof cap, an ergonomic carry strap, and a wide mouth for adding ice and easy cleaning. As an added bonus, Nomader® water bottles are backed by a lifetime warranty.
This stylish nature-inspired ring evokes the earth's beauty and can be a perfect gift for a nature lover who needs jewelry that can endure throughout the most intense adventures. It features incredibly unique engraving inspired by the great evergreen forests. A pine forest tree line is laser-carved around the entire diameter of the ring with extreme precision. The ring is made from cobalt chrome which a very durable and scratch-resistant material and the engraving is actually burned into the metal so the design will look new for a long time. This awesome ring will perfectly represent your partner's outdoor loving personality.
Paperwallet draw-string bag is a must-have. Made of Tyvek material, they're functional, durable, water-proof, and washable. They're also extremely light-weight and comfortable to carry, making them perfect for carrying essential items– like water, keys, money, etc. for any activity from hiking, long-distance runs, or even trips to the beach. Or if you need a little more room for all your gear, check out our duffle or tote bags.
Enamelware is dinnerware and kitchenware made of steel and coated in porcelain enamel, make it both durable and beautiful. Ours is handmade and oven-to-table, meaning it is oven-safe, stovetop-safe (including induction), grill-safe, and campfire-safe. It is perfect for outdoor enthusiasts and those who love farmhouse decor.
These flasks contort and bend to cram into backpacks and pants waistlines. Made in the USA, those with clear caps and silicone caps can get through metal detectors at concerts and festivals. Available in three sizes, the largest size can hold a full bottle of wine.
The BluPond HD Vision driving glasses are lightweight, durable, and with all the lens features you'd expect. What's more, at a price that will pleasantly surprise you.
These are the best sunglasses for driving as they have multiple lenses optimized for different conditions.
The Soxick HD polarized night vision driving glasses offer great value for money. An excellent alternative to the BluPond HD Vision.
The Garrett Pro Pointer AT is an excellent choice for anyone, whether they're an amateur or pro in the metal detecting arena. It's a waterproof pinpointer, making it perfect for a wide variety of applications while its different sensitivity modes make it easier than you ever imagined to find your target quickly.
The Kuman DT-44021 Pin-Pointer is perfect for a complete beginner or for a young user, this could be the ideal option for you. Designed for ease of use, this user-friendly device offers three sensitivity modes and can be used on all kinds of terrain from sand to soil. This is a great choice for simple gold prospecting or jewellery hunting jobs.
Amok is available in Tifosi's brand-new Camo pattern and is equipped with Enliven™ On-Shore Polarized Lenses. These lenses fine tune wavelengths of light to make reds, greens, and blues pop; all while enhancing contrast and blocking glare.
Contributors to this article
This post contains affiliate links. Affiliate disclosure: As an Amazon Associate, we may earn commissions from qualifying purchases from Amazon.com and other Amazon websites.