These top cooking tools and ingredients will make you wonder how you ever lived without them. The gadgets we recommend are easy and satisfying to use. The herbs and spices are new opportunities to transform a dish that you already know how to cook. All in all, these are a must for you or anyone you know who wants to up their cooking game.
Making spice mixes at home is healthier too — Commercially-produced seasoning mixes are typically full of fillers, preservatives, and unhealthy chemical flavor enhancers.
The purpose of this book is to expose you to Jamil's amazing array of exciting spices and seasonings from all over the world. Enjoy!
Best practices for spice and seasoning blends
Herbs and spices with powerful health benefits
What spices are good with what foods
Basic blends
Salt substitutes
Spice blends for meats, poultry, and fish
People who cook love these Japanese style linen aprons. Made and printed in a small studio in Vancouver, WA.
Comfortable, no ties, large front pockets
These scissors are a MUST when cooking with fresh herbs. They make chopping herbs for healthy, delicious cooking unbelievably fast and easy!
The scissors are solid and make very quick work of my fresh herbs. Best of all, clean-up is lightning fast.
I love giving them as gifts because they are a perfect inexpensive gift idea for cooks.
This spice set contains 12 artisan spice blends that may be very difficult to get individually in your region, which makes a perfect gift for any cook looking to try new flavors!
ACC Art Books invites you to take a culinary journey through Tel Aviv, Israel in their new book, "Tel Aviv; Food. People. Stories." Guided by successful restaurateurs Haya Molcho and her four sons, you are taken on a journey to meet Tel Aviv's local chefs and story-tellers that capture the special spirit of the city. Haya revisits the recipes of her home town, re-creating the flavors of her childhood: knafeh, green shakshuka, sarma, Israeli paella, pickled lemons and much more.
This book includes many bmore mouthwatering recipes, stories, and gorgeous photographs of the culture, food, colors, and people that fill the buzzing and vibrant city of Tel Aviv. This vibrant cookbook would make the perfect gift for someone who likes to cook!
Prepdeck is a compact kitchen/food prep accessory that's a dream-cooking companion for anyone that loves to cook. With 45+ different features and accessories wrapped into a sleek, functional and easy to use meal prep station, cooks will be well equipped to handle any recipe in the kitchen, at the bbq, at a tailgate: wherever their culinary talents take them.
What better way to show your chef friend that you care than by getting them their very own herb garden. There's nothing better for a chef than growing some of their own produce to cut down on waste and make sure that the food they're food is as fresh as possible. This LED Indoor Herb Garden Kit is minimal yet effective to help your friend grow fresh herbs and more!
The ideal gift for the gourmand in your life, this set features a tasty sampling of products sure to make bring your grilling skills to the next level! This Grill Master's Culinary kit is the perfect gift for everyone who enjoys grilling, making your next backyard grill-out or camping trip a big hit. The kit includes grilling spices like Rosemary Garlic and Mediterranean Citrus, along with Garlic Infused Oil, Truffle Butter, and t-shirt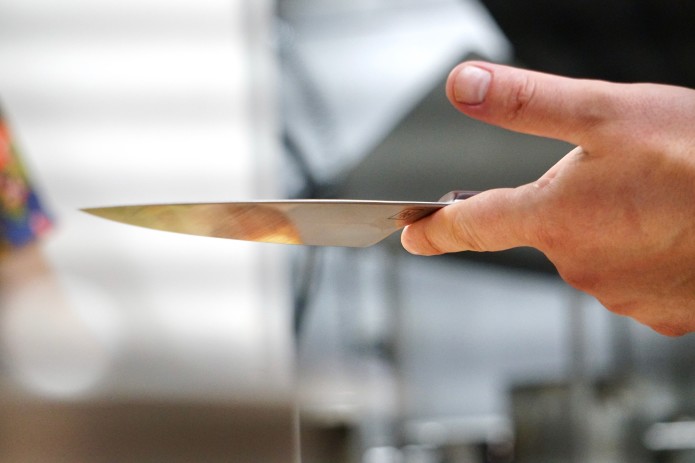 The Artisan Revere chef's knife made its debut on Kickstarter in March—and reached 481% of their funding goal. It's made from a Super Steel and sharp that it's used in tools wielded by US Special Forces soldiers and avid outdoorsmen, and proven to stay sharp longer than other popular knives. Home cooks, James Beard Award-winning chefs, and top American bladesmiths, have already given it overwhelmingly positive reviews—so we know Dad will love it too.
The sheath is a must-have accessory for any kitchen knife.Yes, knife sheaths are intended to protect knives, but they should also be an expression of your personality. They should make your knife look good, so there's the matter of style. Whether you're talking about a kitchen knife or a pocket knife, a knife sheath helps keep your knife protected as well as transportable. That's right: knife sheaths are meant to carry your knife safely, not to protect your knife when it is not in use. For that, look into knife holders. And of course, making sure your knife sheath fits your knife is incredibly important. Pick a kitchen knife with sheath that's too big and you risk hurting your knife and possibly dulling its blade every time you insert the knife. This is why buying Huusk kitchen knives that come with their own premium knife sheaths is a good idea; you know that your sheath is beautifully fitted to your knife and ensures that the blade is protected.
Contributors to this article
This post contains affiliate links. Affiliate disclosure: As an Amazon Associate, we may earn commissions from qualifying purchases from Amazon.com and other Amazon websites.