A sporty girl always wants to take her game to the next level. Any of these top gifts for a sporty girl will go a long way. Help her enjoy her workout even more with amazing sweat-proof earphones, or introduce her to boxing with high-quality boxing gloves from Hayabusa.
Whatever you choose from this list, she'll appreciate for sure!
The Original Worm is the portable, versatile massage roller that combines the benefits of therapy balls with a foam roller. It's two compact sizes make it great for girls on the go! Easily fits in sports bag to provide relief whenever and wherever needed!
Muscle soreness in very common in sports and physical fitness. Soaking in bath salts helps to replenish vital trace minerals such as magnesium, detox muscles, and ease pain from soreness.
Rough dry skin on hands & feet are common in women who play sports and lift weights regularly. Moisturizing your hands daily with shea butter and essential oils can help heal and prevent callous hands.
Boxing has been proven to help people do and become so much more than they expected. Not only is there a physical fitness component, but those who box feel the mental health benefits thanks to stress relief. Even better, there is growth in a person's confidence in part because of an elevated level of physical and mental health. Hayabusa leads the boxing glove industry in hand and wrist protection. No one wants to get injured while trying to get in shape, so in our case, a person can get fit and stay protected in style.
There's one essential workout item every sporty girl needs – a good sports bra. Finding one that's versatile, supportive and comfortable often means a lot of trial and error. Introducing the brand new BraviSport, a medium support sports bra with a unique front Y-shape design that limits breast compression, preventing the formation of lines and creases in the cleavage area. Racer-back straps and a smooth elastic band. Available in small, medium and large.
Meal2Go is a plant-based protein powder and meal replacement featuring 16 grams of pea, cranberry, and pumpkin protein, energy enhancing ancient grains, a full serving of daily vegetables, 17 vitamins and minerals, ayurvedic herbs and 1 billion CFU of Ganedenbc30 probiotics making it perfect for the sporty girl on the go that needs a snack in between meals that doesn't want to waste empty calories on a candy bar or bag of potato chips.
You can call it Starbucks tumbler, bottle, thermos or anything it does all the work for you. You can carry it for your college, office or anywhere out there. It comes with slim double wall construction technology that keeps your beverage or drink at the same temperature when you put it inside. And it has one button open and lock system which makes it much more user-friendly.
Now focus on running or doing workout rather than worrying about your car keys or wallet thanks to this running phone holder. It comes with an elastic strap facility which makes it comfortable for everyone to wrap around your arm and focus on what you are doing. It has a special space for earphones which makes listening to music hassle free and very easy. Made up of anti-shockproof material which protects your phone in case it falls. Now enjoy your running!!
Say goodbye to your back pain and bad posture by using this amazing posture brace. This brace will eventually assist you in correcting your posture and increasing your blood flow which increases your healing ability. It helps you to stay healthy and gain more confidence in life.
Now, get rid of unhealthy lifestyle and posture by using our posture corrector. It improves your posture by training your muscles to stay in a healthy posture and get rid of bad posture. By improving your posture you can improve your balance, stay healthy, be active, and get rid of back pain.
Part of the award-winning BackBeat FIT line, BackBeat FIT 3100 true-wireless earbuds feature a waterproof design and Always Aware(tm) technology to help you stay in tune with your surroundings. Backbeat FIT 3100 also features My Tap, which lets users set timers, stopwatches, select playlists and more with just a touch. Best of all, BackBeat FIT 3100 boasts a truly wireless design for those looking for a secure, cord-free look for any workout.
Flexi Lexi's awesome yoga pants make an ideal gift for your sustainably-minded sporty girl. A high-performance pant made from pioneering, market-leading fabric and featuring a super fun pattern, they're ethically produced too. Flexi Lexi are committed to giving their workers standard wages, bonuses and annual leave. It's a win-win situation!
Corkaine sponsored GayBowl 2018 in Denver, CO where many sporty girls play flag football. The event was held at Dick's Sporting Goods Arena where around 1,000 players participated. The game easily rivals Cornhole in entertainment but offers so much more. 8 girls can play at one time and various games can be played from endurance to chill, to super competitive. Corkaine appeals to everyone of all ages and can be played in people's backyards at a BBQ, a park, a beach, or used as a side game before and after tournament gaming events.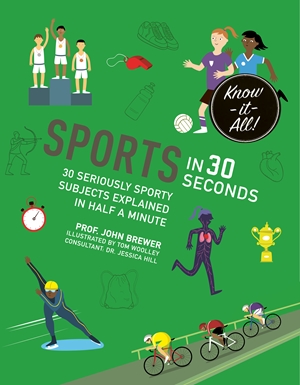 With fast facts, mini missions, and engaging artwork, Sport in 30 Seconds is a must for kids who enjoy watching or playing sport. Fascinating facts about our most popular team and individual sports are combined with sections on sports science, the Olympics, the health benefits of sport and the history of sport to make this book a clear winner for all junior sport fans.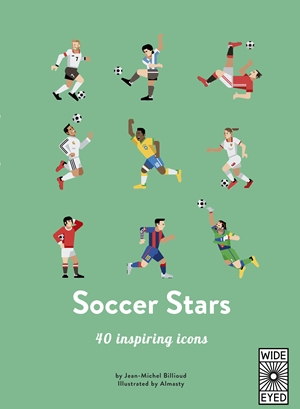 The greatest goals, the most spectacular saves, the 40 most inspiring soccer stars, both male and female, of all time are here! In this fun, fact-packed book from the 40 Inspiring Icons series, learn how these soccer stars became the best in the field.
Contributors to this article
This post contains affiliate links. Affiliate disclosure: As an Amazon Associate, we may earn commissions from qualifying purchases from Amazon.com and other Amazon websites.