It might not surpass the joy their morning cup of coffee brings to them, but these gifts can surely put a smile on the face of any coffee lover by enhancing their beloved ritual consumption of the beverage they so much love.
Make a coffee lover smile with these tasteful gifts.
This product was recommended by Eat Your Coffee from Eat Your Coffee
"Coffee lovers need their coffee at all times! If you're running late in the morning or are on the go later in the day, keep an Eat Your Coffee Bar on you for those moments! As a quick overview, each bar is vegan, gluten-free, non-GMO, kosher, and packed with 80mg of caffeine from real, fair trade coffee!
Use code FUPPING25 for 25% off your order at eatyour.coffee or check us out on Amazon at amazon.com/eatyourcoffee!"
This product was recommended by Michael Chmura from Babson College
A reusable cold brew coffee filter completely made in the USA that works with mason jars
This product was recommended by Chynna from Keto Farms
Keto Coffee provides a clean and convenient keto breakfast, eliminates coffee crashes and gives you hours of clean, lasting energy.
This product was recommended by Luciana Torous from 3 Leaf Tea
If coffee makes you feel jittery, and you need something that's a perfect calming pick me up, a lot of coffee drinkers consume matcha in the late afternoon.
This product was recommended by Jurrien Swart
The stojo pocket cup is ultra-portable, leak-proof, collapsible, and reusable. Designed by three coffee loving dads based in Brooklyn, it's a convenient alternative to bulky travel mugs and better for the environment than disposable cups – perfect for coffee lovers who are always on the go!
This product was recommended by Nikesh Patel from Kivu Noir Coffee
Its quite simply the freshest coffee in the world and an mind blowing amazing new coffee taste experience. So smooth and no bitterness.
This product was recommended by Sam Morrison from Glacier Wellness
These super popular candies are perfect for the coffee lover in your life thanks to their balance of rich flavors, creaminess & enticing aroma. Made with real Sumatran coffee found in Indonesia, Bali's hard candies melt in your mouth and taste like a genuine cup of coffee.
This product was recommended by Community Coffee Company  from Community Coffee Company
Perfect for the coffee lover in your life, this gift set features a coffee scoop, two red bistro mugs, and some of Community's favorite blends, including the Signature Blend Dark Roast, Café Special®, and Breakfast Blend ground coffees in both 12 ounce bags and 12 count single-serve pods.
This product was recommended by Knud Berthelsen from Free Your Tea
Switch things up for the coffee lover in your life, and invite them to discover new and exciting loose leaf tea! A personalized tea subscription with Free Your Tea will have your loved one thinking about you each month when they receive their shipment of premium, loose leaf teas tailored their taste. Your loved one gets to sit back and enjoy a warm, delicious cup of tea while we do the work in finding them their favorites!
This product was recommended by Community Coffee Company  from Community Coffee Company
Gift the gourmet coffee lover everything they need for the perfect cup! This set includes Community Coffee Company's exclusive Private Reserve® Colombia Toledo-Labateca and Private Reserve® Brazil Santos Bourbon whole bean coffees, a Bodum® Stainless Steel French Press and a stainless steel coffee scoop all beautifully-packaged in a gift basket.
This product was recommended by Brandi Nye, President of Giorgio Cookie Company from Giorgio Cookie Company
Biscotti from Giorgio Cookie Company are perfect for anyone who enjoys a little something sweet with their cup o' joe! Handmade in a variety of flavors and drizzled in rich Belgian chocolate, these delectable Italian biscotti make the perfect gift for the coffee lover in your life with a sweet tooth.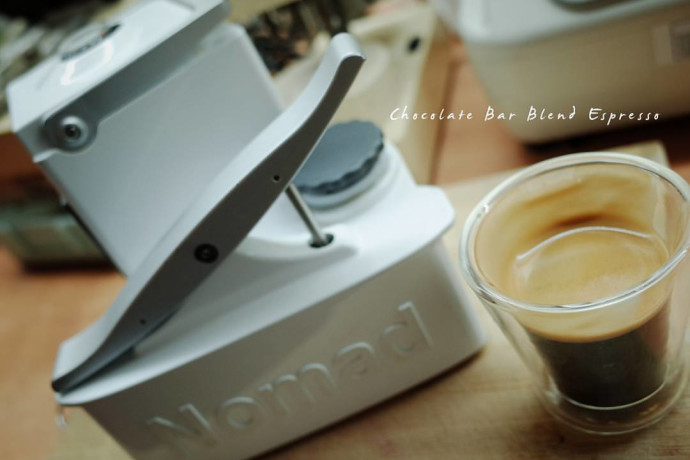 This product was recommended by Curt Morgan from UniTerra Nomad
The Nomad is the ultimate personal espresso machine. Simple, fun and easy to operate it brings uncompromising barista quality coffee drinks to any location. Being small in size, non electric and environmentally friendly is just icing on the cake.
This product was recommended by Leigh Ann Newman from Black Rifle Coffee Company
Black Rifle Coffee Company is branded as "America's Coffee" because of their passion for supporting our country's veteran's as employees and vendors. Their coffee club members allows coffee lovers to have fresh coffee of the highest quality delivered free of shipping fees directly to their homes.
This product was recommended by Eric Lu from Happypop Socks
IF YOU CAN READ THIS, (PLEASE) BRING ME A CUP OF COFFEE; Brown with Beige lettering, wear to work, on a date, or lounging around the house!
This product was recommended by Donna Roberts from Onya
Onya reusable coffee cups are light, tough and very durable, made from 100% food safe silicone, and are designed to barista standards. Keeping your coffee warm for longer whilst staying cool to the touch, they are 100% recycleable at the end of their long life cycle.
This product was recommended by Vivian Young from Good Night's Rest
Attention iced coffee aficionados! Meet The TUBE: Cold Brew Coffee Maker and Tea Infuser, an inexpensive, easy-to-use gadget to make the best cold brew coffee. Put your favorite coffee grinds in the TUBE (made out of fine mesh stainless steel), place it in a wide-mouth mason jar. fill it with water and 24 hours later, cold brew! It can also do double duty by making infused fruit water, vodka with fruit cocktails and iced tea!
This product was recommended by Amy Nguyen from Catalina Coffee & Cookie Co.
A great gift for a coffee lover is a mug from beautiful Catalina Island. Made exclusively for our shop, Catalina Island lovers can reminisce about their time on vacation while sipping their coffee.
This post contains affiliate links. Affiliate disclosure: As an Amazon Associate, we may earn commissions from qualifying purchases from Amazon.com and other Amazon websites.