After being by their side during much of the relationship, the bridesmaids get the honor of standing beside their good friend as she's being taken to the altar.
It is both an honor and privilege for your relationship with someone to be acknowledged by allowing you to play a part in one of their most important days. But remember, the bride's best girls also deserve to be spoiled too, and here are the gifts to do just that.
This product was recommended by Caleb Backe from Maple Holistics
You can never have enough weekend getaway bags. This one will have your bridesmaid initials printed right on it. It's a great way to show them how much you appreciate them being your bridesmaid but more importantly, your friend. You can choose from a ton of different patterns to match each of your friends' personalities.
This product was recommended by Aleisha McCormack from Bridechilla
The Maidchilla Manual is the ultimate Bridesmaid guide (and gift!) taking you through all of the pre-wedding events, and providing calming mantras and solutions to any potential 'people problems' that may come your way. Give your Bridesmaids the gift of chill and help them help you in the process!
This product was recommended by Essem Jac from DOCAZON
Show your bridesmaids you care with these beautiful personalized earrings.
This product was recommended by Ashley Barado from InvitoBella, LLC
Is it coffee or is it champagne in that coffee mug? Who cares, we're celebrating the best. day. ever!
This product was recommended by Essem Jac from DOCAZON
Show your bridesmaids you care with this charm heart necklace that can be personalized with initials and birthstone crystals.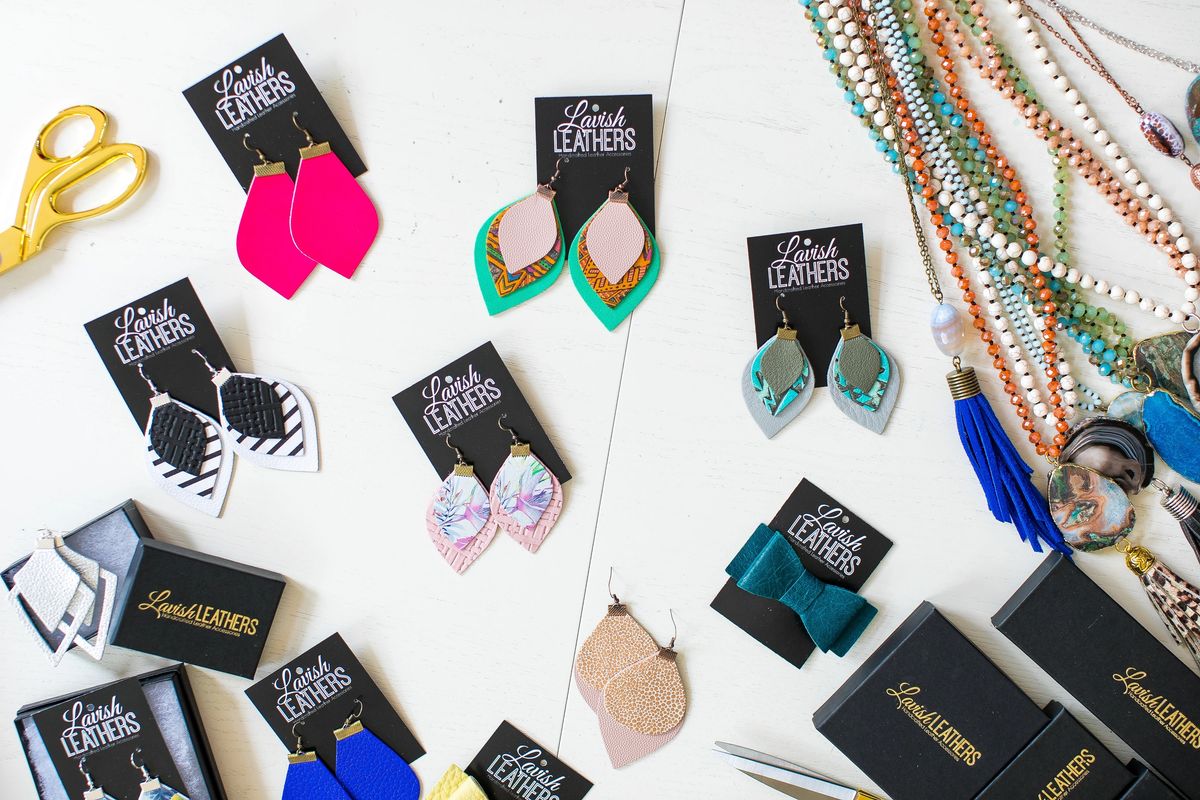 This product was recommended by Katie Rose Cronin from Lavish Leathers
It's wedding season and brides are always on the lookout for affordable and adorable wedding favors… Lavish Leathers would definitely fit the bill for any gal pal that's had a part in the special day! Lavish Leathers offers artisanal, gorgeous leather jewelry and accessories that won't kill the wedding budget! Whether the wedding vibe is delicate and romantic or bold and creative, these handcrafted, lightweight stunners would make for a lovely gift!
This product was recommended by Essem Jac from DOCAZON
Show your bridesmaids you care with this EKG Heartbeat Necklace from DOCAZON that can be personalized with a birthstone Swarovski crystal or a freshwater pearl.
This product was recommended by Sally  from Glen Ivy Hot Springs
Spa passes are a great gift to share with bridesmaids. Glen Ivy Hot Springs has been a California wellness destination for over 155 years. With 19 therapeutic pools, mineral baths, and the iconic Club Mud where your girls can prep and prime their skin before the wedding, or detox and relax afterwards. For those who aren't in SoCal, look for a day spa or local hotel that offers day passes to take advantage of the spa amenities including the steam room, sauna, jacuzzi, and more.
This product was recommended by Elizabeth Williamsberg from Elizabeth Williamsberg Photography
Millennials tend to be less materialistic and don't want as much "stuff" — often because they don't have a house to put it all in. Any trinkets run the risk of getting Konmari'd next season. With a Girls Night Out Glamour Photography Party, can give her girl squad a night of pampering with a full hair and make-up makeover plus photo session with the besties for the experience-driven generation. Plus, they receive gorgeous images that they can share online or give as a small keepsake image that can go on a wall, desk, or other small space.
This product was recommended by Fawn & Sparrow from Fawn & Sparrow
Bohemian crystal quartz hair comb is the gift every girl wants to wear long after the wedding! All natural crystal gems sit comfortably in any hair style!
This product was recommended by Mandy Martinez from Lady Wolf
316 Stainless Steel. Hypoallergenic.
This product was recommended by Lisa Mark & Rebecca Lozer from The Secret Life of Weddings Podcast
This unique greeting cute card puts a funny spin on asking someone to be your bridesmaid! The card features an adorable white dress graphic with the important Bridesmaid proposal question 'Will you help me go pee in a big white dress?'
This product was recommended by Rick Roman from GiveAcaricature.com
Fully custom caricature of you and your bridesmaids that captures memories, quirks, and the things that bond you together for a gift that is both sentimental and fun. Drawn from your photos & ideas. Fast and easy.
This product was recommended by Michelle Maraj from Travel After Five
For my wedding, I purchased one of these drawstring make-up and toiletry bags for each of my bridesmaids. They're prefect for your bridesmaids to carry emergency make-up on the day of your wedding, and these bags will be put to good use for traveling afterwards.
This product was recommended by Arya Wirendra` from Gardens of the Sun
Each piece of Gardens of the Sun's ethical jewelry is one of a kind, so are your bridesmaids, right? The Zircon leaf necklaces symbolize growth and new beginnings in life. Your bridesmaids come from their own unique paths to unite under one tree of life to celebrate your love, and in return your can indulge them with a unique gift. It's like a little love note to your bridesmaids.
This product was recommended by Essem Jac from essem JAC
This premium Grade, 100% undiluted, 100% vegan Amber perfume oil is one of the most beautiful fragrances in the world. You are guaranteed to turn heads and get compliments with this aromatic fragrance.
This product was recommended by Andrea Morin from KODAK Digitizing Box
Your bridesmaids are the friends that have been in your life forever – the ones that appear in the snaps from your middle school disposable cameras to the VHS tapes of your dance recitals. Give a nod to the past as you look to the future and digitize those memories for the people that mean the most to you.
This product was recommended by Admin from Sponsored By Fupping
Best gift to give to your bridesmaids? A vibrator, of course. Sweet Vibration's The Perfect Match is the perfect gift.
This post contains affiliate links. Affiliate disclosure: As an Amazon Associate, we may earn commissions from qualifying purchases from Amazon.com and other Amazon websites.