Finding the perfect gift for an international traveler can be a serious challenge. You want to find them a gift that is both thoughtful and practical… but that's not an easy job.
Luckily, we've got some pretty awesome ideas about what to give to an international traveler – check them out.
Who helped make this article possible?
The Back Bay First Class 50 earbuds are perfect for any traveler that wants some peace and quiet during long plane rides. These wireless earbuds have one of the highest ratings for sound quality on Amazon and come with a protective carrying case that can be tossed in a suitcase. With ultra-long battery life, the earbuds are great for an international flight or a day of exploring.
Invented by a mother/son team who have a love of travel and entrepreneurship, Packbands were developed to replace their use of rubber bands to secure their rolled clothing when traveling. Instead, they created a lightweight, reusable and importantly, adjustable strap to hold clothing and shoes. Rubber bands are difficult to place around larger items (like jeans or a puffy jacket), they wrinkle clothing and they break!
Packbands are better: they come in three sizes to fit around a variety of clothing types and sizes, you can join two bands together for a larger item and they can be used to attach items to the outside of luggage or a backpack (a second bag, jacket/sweater, waterbottle, etc.). They have no moving parts to break or rust; they will not snag fabric. Each Packband includes a loop to secure the end and is marked with +/- to indicate a soiled or clean clothing bundle.
Travel journalist Sarah Baxter has carefully curated a selection of the most spiritual locations from around the world, from breathtaking scenery to religious capitals. Her enlightening text will reveal the full spiritual story of each site, combined with stories of previous visitors that will both delight and inspire.
Staying hydrated is important in general as we all know – but on a plane where the air is very dry, it's especially important. Why? The dry air supports the body getting dehydrated much faster than usual. If we drink enough water (about 8 ounces per hour) our skin will be less irritated and our bodies thankful, despite visiting the washroom frequently.
Having an own reusable bottle is much more convenient, because you're not dependable on any airline F&B.
Refill your bottle anytime when on the ground (at least when you're visiting tap water friendly areas). This super stylish bottle from Corkcicle is sturdy, easy to fit inside a travel bag and holds hot or cold drinks for many hours. Oh and it glitters (or not, depending on your choice of color).
It's been proven that compression hosiery can prevent blood clots in the legs. Nowhere is this more important than on long international flights, where people are sitting for very long periods of time. The compression keeps blood from pooling in the lower legs and feet, which dramatically reduces the risk of blood clots or deep vein thrombosis.
The Ellis James Designs Travel Jewelry Keepers are the perfect setting for all your beautiful jewelry. They keep your necklaces untangled, earrings displayed nicely and all your other jewels in their own little compartment. The Jewelry Keeper's quilted exterior is water-resistant and padded for protection, keeping your jewelry neat and secure.
No Description
Pack without compromise with The Ellis James Designs Quilted Hanging Toiletry Organizer! With multi-functional pockets, a detachable pouch and a hanging hook, it truly is your best travel companion. Store all your FULL-SIZED toiletries, makeup, cosmetics, hair tools, accessories and much more.
For those that travel with their children, CollapseAndGo baby bottles and toddler cups are a MUST! Created by a mom and dad who were traveling abroad with their young daughter, they noticed by the end of the day, they had MANY empty large bulky bottles taking room up in their bag. After researching to buy collapsible baby bottles, they found out they didnt exist, so they invented them! Take it on the plane or take it on the train!
Eustachi is a Eustachian tube exerciser that works with the body's natural process of swallowing. Whether you know it or not, every time you swallow and yawn you are actually exercising your ears. More specifically, your Eustachian tubes. These exercises are the body's natural process for equalizing the air pressure behind our eardrums. Eustachi helps you exercise your Eustachian tubes, as you swallow, using a little air delivered through your nose.
The so-called Book Towns of the world are dedicated havens of literature, and the ultimate dream of book lovers everywhere. Book Towns takes readers on a richly illustrated tour of the 40 semi-officially recognized literary towns around the world and outlines the history and development of each community, and offers practical travel advice.
Inspired Traveller's Guides: Literary Places takes you on an enlightening journey through the key locations of literature's best and brightest authors, movements, and moments-brought to life through comprehensively researched text and stunning hand-drawn artwork.
The uniquely portable Nomader® Collapsible Water Bottle makes it easy to stay hydrated while traveling. Designed with a flexible BPA-free silicone body, the TSA-compliant Nomader® bottle can be folded-up or collapsed flat to save on space, yet it's as comfortable to drink from as a hard-sided bottle. This innovative, eco-friendly travel water bottle features a patented leakproof cap, an ergonomic carry strap, and a wide mouth for easy cleaning. Affordably priced at $24.95 and available in a variety of stylish colors, Nomader® bottles are the perfect gift idea for international travelers. As an added bonus, Nomader® water bottles are backed by a lifetime warranty.
A prepaid international sim card is the modern day must have for any regular international traveller. They allow you to call and use data anywhere in the world, we recommend a prepaid version so you stay in control of your spend and can top up as you need. Just make sure your phone is unlocked or that you have a second phone for travel.
Although traveling oversees is so much fun, it's not always the easiest on our bodies. From long plane rides to squeaky hotel beds – nothing can put a damper on a perfect vacation or an important business trip like horrible neck pain.
The perfect eco-happy bag for hands-free travelling, designed to truly be a long-lasting staple in your bag collection with the versatility to wear it three ways or simply use it for smart storage in a bigger bag.
Crafted from ultra-luxe and eco-friendly vegan fabric made from pineapple fibers, this chic bag can be worn as a cross-body, wristlet, or belt-bag allowing you to effortlessly and quickly change up your style to fit the occasion and your mood. Lots of secure storage for passport, phone, credit cards and more. Whatever the occasion, one thing's for sure… this bag is definitely a solid and reliable option.
The Baggallini Triple Zip Bagg is the perfect gift for an international traveler. Though compact in size, this bag boasts massive storage options. It's removable strap allows for easy conversion from crossbody bag to clutch to waist pack. Gift it to a male or female traveler – it doesn't matter! They'll love the zippered compartments and multiple color options.
No international traveler's packing list is complete without a passport holder. And this one is RFID blocking for security, has multiple sleeves inside for convenience and 11 stylish color options! Available via Amazon Prime, this passport holder is guaranteed to reach you in time to gift this to your travel friend!
The Lava Classic travel towels are designed and hand sewn for international travelers by international travelers. Approximately the size of a standard bath towel, the Lava Classic is lightweight, extremely absorbent, fast drying and naturally antimicrobial. It makes a serious statement when hanging on a hook in a hostel, on a tree branch next to your tent, or spread out on a sandy beach.
From the Contributor: The best easy-to-use and effective portable water filter on the market! We have traveled throughout Nepal, India, Cambodia, Peru, Morocco and Vietnam using this filter and not only does it keep you safe and healthy but cuts down on needless plastic waste.
From the Contributor: Our Luggage features a sleek, timeless design and unyielding quality that won't cut into your travel budget. Our mission is to change the way people travel by offering the best quality luggage on the market with the necessary smart feature like a removable, rechargeable battery and a back pocket so you can charge on the go. And the best 360 smooth-glide wheels for easy maneuvering so you can move effortlessly between destinations.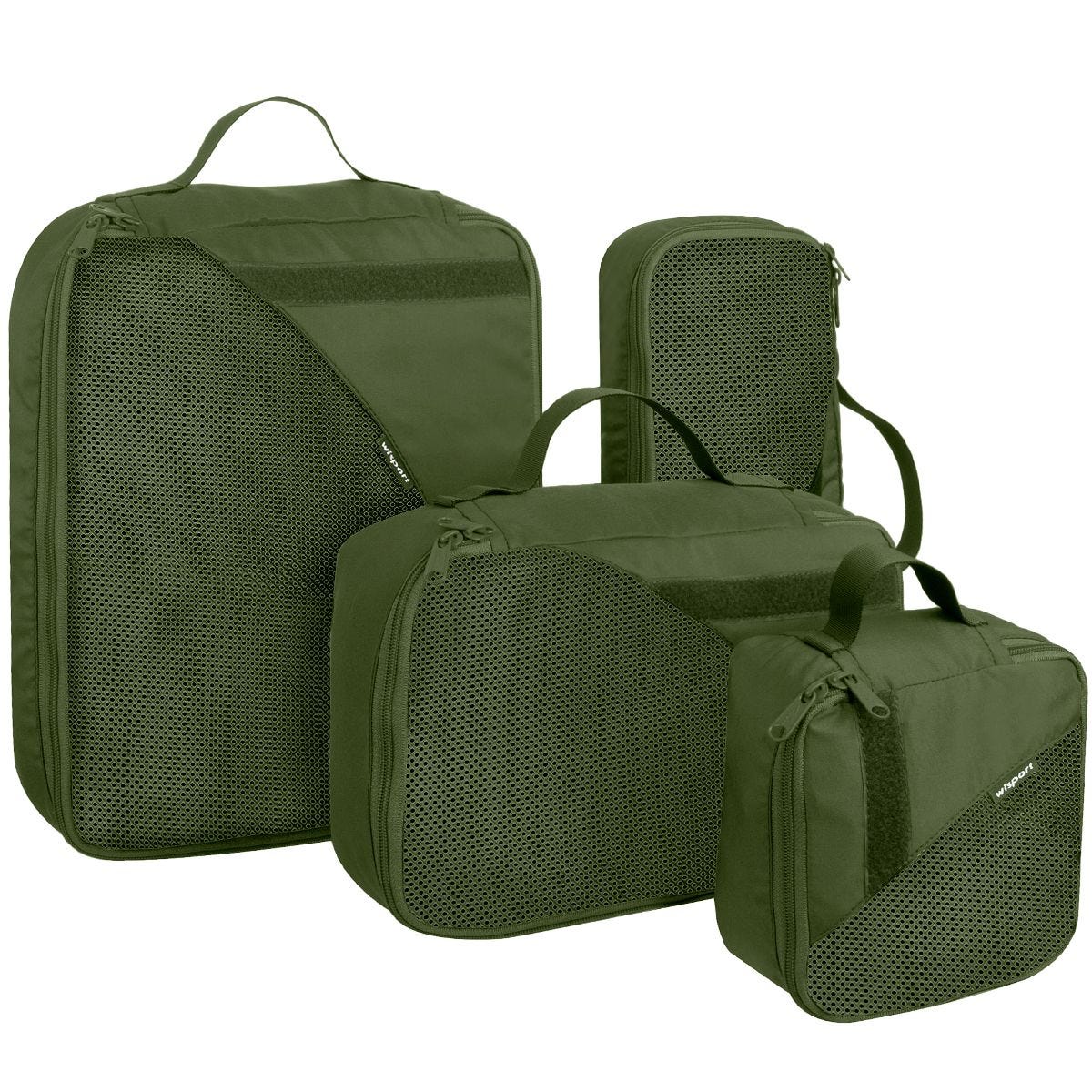 If organizing your things when traveling is unnerving, having Wisport PackBox on your side can make it simple. It's a set of four lightweight but robust boxy pouches of different sizes, with clamshell openings, sturdy carry handles, mesh panels and loop straps. They look elegant and can match the backpack capacity without adding bulk or weight. Further, Wisport PackBox pouches are foldable so easy to transport or store when not in use.
The HP Sprocket is a must for those that love holding onto memories the old-school way. You can print out your cherished moments in an instant thanks to its Bluetooth connectivity feature. Perfect for those international travellers who like to capture moments on the go.
Suede Microfiber is an ideal gift for travelers, swimmers, those who love the beach and outdoor activities. It's thinner than standard microfiber & cotton hence it's lightweight & compact making it super easy to pack and carry. You don't have to carry extra bags to fit this towel. It comes in different sizes suitable for travelers of all ages. It easily dries the skin and there's a color for everyone with its various vibrant-colored cabana stripes.
Every international traveler can use an RFID Blocking travel passport wallet to carry their passport, money, credit cards and boarding passes and keep everything organized. The RFID blocking material is a bonus because it protects personal information from identity theft. Not only is this wallet a stylish way to carry your passport, but it comes in a large number of colors so everyone will find a color they like.
If you're looking for a sleek backpack that will help you stay organized on all of your travels, then look no further! The Be Right Back Backpack features a padded, breathable mesh back panel to keep you comfortable and cool throughout the day. Plus, it has all the pockets you need to keep things in order and can accommodate tablets and small laptops. Perfect for moms, this bag even features a memory foam changing pad in the back pocket so you're always prepared when traveling with your little one!
Finely handcrafted with custom metal hardware, the Wherever Weekender is an ideal choice for quick trips and Friday-Sunday getaways. Part of Ju-Ju-Be's The Ever Collection, this sophisticated vegan leather weekender is stylish and spacious with a variety of pockets — both open and zippered — giving you easy access to your keys, passport, cash, lip balm and more. It features an exterior pocket, beautiful metal accents, and luggage feet so your beautiful bag won't get dirty on any airport floor.
On international trips, ladies need a great makeup bag and the Be Ready bag is exactly that (and more)! Featuring an Asian-inspired print with delicate floral blooms on a lavender background with rose gold hardware, this lovely bag has all the space you need to keep things organized. With mesh pockets on the interior sides and elastic loops to hold brushes, mascara, and lipstick in place, it is the perfect solution for packing all of your beauty products.
International flights are usually quite long. The Cabeau Neck Pillow patent-pending Seat Strap System allows the pillow to be strapped to the airplane head-rest wings to keep your head from falling forward as you sleep
Versatile, water resistant foldable duffle bags easy to pack and use for when you bring back a little too many souvenirs!
This post contains affiliate links. Affiliate disclosure: As an Amazon Associate, we may earn commissions from qualifying purchases from Amazon.com and other Amazon websites.