There are friends and there are office friends. They are the kind of rare blessing that you can always count on to save your behind during working hours in the unforgiving and cold, cold world that the office life is.
Running behind on a deadline? Out of sticky notes? Need someone to tell you who was the bastard that ate the dessert cake you left on the office's fridge? They got you covered. Count your blessings and your officemates for they are quite precious. Now, to show some appreciation for their assistance, only the best of gifts are in order, only those shown here.
This is a great way to have that lavender scent in the office without candles. The essential oil diffuser releases relaxing and refreshing scents throughout the office that everyone can enjoy. As an added bonus, it's refillable, so you always know what you can buy them in a pinch.
The magnet sculpting set is a fun thing to play with while at work, that won't break the bank. It'll definitely help during those long meetings that just seem to drag on. Plus, they work as a great stress-reliever to keep around the office.
Luxor Linens` luxury bedding and bath supplies are the perfect gift for officemates. Check out our favorite new towel set below! They are luxurious and you can add a personal touch of custom monogramming!
Block out all the office noise and take phone calls with the Back Bay First Class 50 noise cancelling earbuds. These wireless earbuds have one of the highest ratings for sound quality on Amazon and come with a protective carrying case that can be tossed in a suitcase for business trips. With ultra-long battery life, the earbuds can last a full workday.
This customized water bottle in dumbbell style is a perfect gift for office mates who are Gym freaks. This gift would work as a motivation for gym buddies. Also, the bottle can be used as a dumbbell even while working in the office or at home.
Get that refreshing feel with the added benefits of Vitamin C with our Beauty Elixir! Contains organic ingredients so you can use it daily to tone skin, prevent breakouts, reduces redness and dark spots. It's like water for the dehydrated skin. Instead of always washing the face and bringing a facial wash, this skin care is convenient, portable and easy to use!
This lovely set from a British designer would be pride of place on any ladies office desk. Having not only a super stylish design as a great selling point, but having all those much needed accessorise we all spend too much time searching fro each day at the bottom of our desk draws. Sourced from a British brand and really well made, this really is one of those gifts you wish you had kept for yourself.
After a lot of customer requests 'Cordelia's House Of Treasures' have spent loads of time selecting and preparing these stationery gift boxes to ensure their ethos of offering talented British makers and great quality at affordable costs, and now they are ready. Each of the lovely gifts are all full sized products, so no sample or free gifts here, everything can be bought separately in store or on the high street, but these boxes offer large savings compared to being bought separately.
To ensure all the super stylish and well made gifts are delivered safely, they have wrapped them all in locally sourced tissue paper, hand packed into recycled boxes that have been hand printed with stamps from an English stamp company. As well offer giving somebody an amazing gift that will be sure to have so many much needed items, you are also supporting British independent shops and commerce. Available as a 1 off gift box, or as a monthly subscription to become the gift that keeps on giving.
Who is not a Harry Potter fan, either on the quiet or out and proud? Add a little magic to your office desk with this lovely Harry Potter inspired fairy door. The working door catch and little jar of magic add to the magical feel, as well as a black board covered door so you can add your own message, or write those all important notes and missed calls.
This lovely and super tactile mug is sure to be the envy of the office kitchen cupboards and dish washer. Coming from a British brand, its simplicity and yet chunky quality will ensure it can take the office Monday morning knocks. The spotty dog seems to be a favourite of most, but there is a Labrador and westie too for those with their own favourites. Being microwave and dishwasher safe ensure longevity and will be certainly welcome with a 'cuppa soup' on a cold winters day.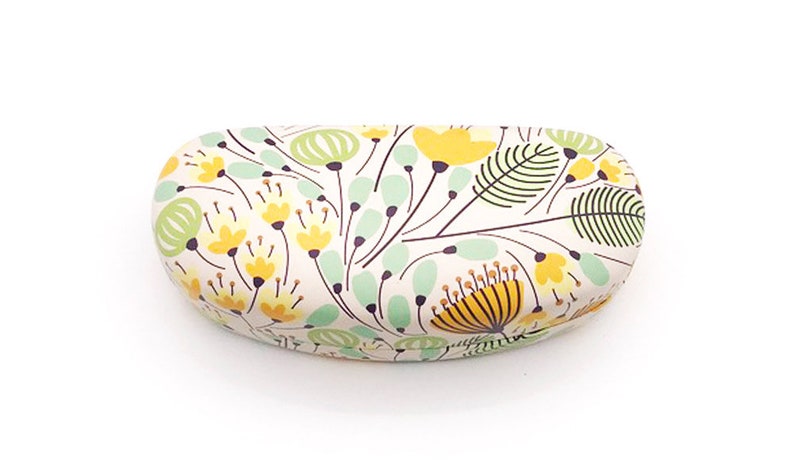 Sure you've never thought of gifting an eyewear case as it always looked so plain and unstylish. But I guess you should first have a glance at the quirky designer cases showcased at ThePout and then come to a conclusion. You'll find eyewear cases with custom artwork that matches your officemate's personality. They're also strong enough to store in glasses and sunglasses safe. It is one of those pocket-friendly and thoughtful gifts that actually can be helpful and attention-grabbing.
Call me a nerd, but I highly suggest a Pomodoro timer! This little item, along with another productivity hack I employed at the same time, totally changed my work life a few years ago. Plus, it's not an expensive gift, so it's not as if you are going to make your colleague feel guilty that they only brought a $10 gift card to the local coffee shop at this year's company gift exchange.
The MassageRite Heated Neck Messager and Rolling Back Pillow, Amazing for Pain Relief and Relaxing. Makes a great gift for Her. This is a very nice, high quality unit for everyday use
With warmer weather right around the corner, ice coffee will begin flowing around the office. A great alternative for a morning or afternoon caffeine boost is Caffè Umbria's new Nitro Cold Brew, which comes as a pack of four 8-ounce cans.
The third-generation, Seattle-based, artisan coffee roaster has created a nitrogen infused cold brew that defies convention—smooth, creamy refreshing and ready to drink. Made with Caffè Umbria's Gusto Cream Blend and filtered water, this premium cold brew has the classic notes of caramel and milk chocolate with subtle fruit and brightness. This gourmet cold brew set can be easily delivered right to the home or office for pain free gifting.
Contributors to this article
This post contains affiliate links. Affiliate disclosure: As an Amazon Associate, we may earn commissions from qualifying purchases from Amazon.com and other Amazon websites.