This article showcases our top picks for the 'best office storage boxes with lids'. We reached out to industry leaders and experts who have contributed the suggestions within this article (they have been credited for their contributions below).
We are keen to hear your feedback on all of our content and our comment section is a moderated space to express your thoughts and feelings related (or not) to this article This list is in no particular order.
This product was recommended by Suraj Kumar from TopDigitalBuy
Basic but effective storage box with lid from Banker Box. Best in doing the basic job of a storage box with 450lbs. stacking strength. It comes with a double wall and single wall construction and its lift-off lid ships attached with the box to prevent lid loss
---
This product was recommended by Suraj Kumar from TopDigitalBuy
AmazonBasics Basic Duty Storage/Filing Boxes come with Lift-Off Lid. It is best for office and home use and provides the tape-free assembly which is convenient and easy.
---
This product was recommended by Suraj Kumar from TopDigitalBuy
JSungo File Organizer Box is one of the best in its design and colour. It comes with upgradeable file storage set. Its linen exterior design provides it with an eye-catchy look.
---
This product was recommended by Stephanie Henkins from Curvy Girl Plus
For business, I store all my fiscal year-end documents in the Bankers Box 763. I currently have seven (7) years worth of documents stored in these boxes. They are easy to assemble and stack beautifully & compactly, one-on-top of another.
---
This product was recommended by Jenny Abouobaia from Clever Touch Marketing
These are the storage boxes I use and recommend. They are attractive and easy to clean, collapsible (made of linen), can be labeled easily, and have handholds for easy lifting. Not the cheapest, but they are durable and worth the extra cost.
---
This product was recommended by Brandon Wachs from SHARK EYES
Made from plastic they are more durable than other cardboard alternatives and the secure WEATHERTIGHT SEAL provides maximum protection against moisture. An important yet often overlooked factor if you want to protect your important documents in the event of a flood! The reinforced lid design makes for easy stacking to make the most out your space and are a great addition to any office.
The fold-in handles make them easy to lift and each box comes with a strong top that fits firmly & snuggly over the box, so no worries of collapsing in when they are stacked. Another great feature of the Banker Box 763 is being able to write a description of the contents directly on the box with a marker, avoiding labels that peel off over time. For home, I use them to store a plethora of items.
I use a couple boxes for my 'fragile' holiday decorations and they store nicely out in the garage. The majority of my home boxes are used for next season's clothing, as well as clothes I plan to pass down to the next child coming up. I store them on the top shelf of each child's corresponding closet. As mentioned earlier, my favorite feature of these boxes is the lids. I can easily take a box down from the closet, rummage through it should I need an item out of it & then put the lid back on and put it back. The lid literally comes on & off very easily, making it very accessible.
I used to use the plastic rubbermaid containers with the snap-on lids, but my labels never stayed on for very long and when I'd stack them, they'd eventually cave in, because the lids were made of such thin plastic. I found them not as aesthetically pleasing, either. The bulky size of the Rubbermaid container meant they wouldn't fit neatly on any of my closet shelves, causing me to store them on the floor. The Banker Box 763 fits on all my shelves inside my closets. It is truly the BEST box out there!
---
This product was recommended by Catherine Ballard from DIY Without Fear
I love everything mDesign makes, and these stackable organizer boxes are no different. They come with labels, the lids are attached with a hinge (so they never get lost), and they are clear so you can see inside. Boxes like these are great for holding small stationary, paperclips, labels, push pins, and much more.
---
This product was recommended by Laura Sandberg from Let Laura
We love this solution for clients who have papers to file, but don't need an entire filing cabinet. You can keep it on your desk for easy access, tuck it away on a shelf or keep it in a nearby closet.
---
This product was recommended by Laura Sandberg from Let Laura
This is one of Let Laura's go to's for office storage solutions. These boxes help keep things practical and pretty when creating organizing systems to store office supplies and/or collateral that has been categorized for a specific project. Bonus – they also work well as memorabilia boxes and come in a variety of colors.
---
This product was recommended by Laura Sandberg from Let Laura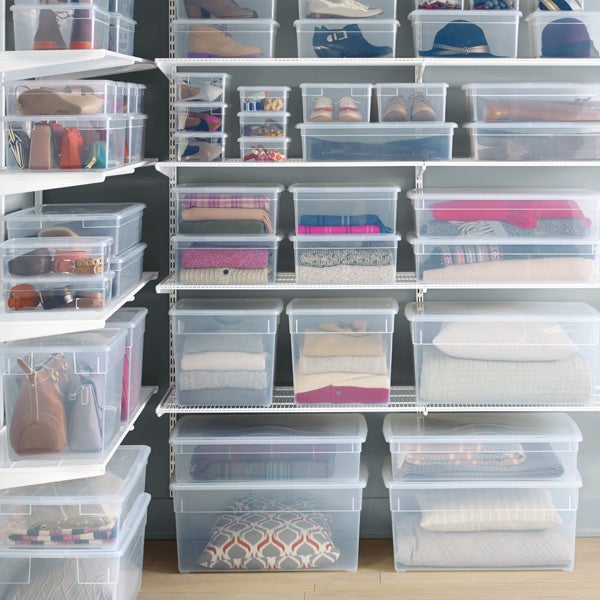 We use these boxes to store almost everything! You can order clear boxes from other sites, but in my opinion, Container Store has the best on the market. They are perfectly sized for your shelves and can store everything from your extra office supplies to stationery and electronics! They are super versatile, clear so you can see your items and even though they are plastic, we consider them an eco-friendly and sustainable solution because you will use them for years to come!
---
This post contains affiliate links. Affiliate disclosure: As an Amazon Associate, we may earn commissions from qualifying purchases from Amazon.com and other Amazon websites.