Even if you are not particularly fit or active, nothing makes you more appreciative of your capacity to stand on your own two legs and swing both of your arms than meeting someone who's not so lucky.
Persons who have limited mobility and those who are disabled are inspirations since, against their own permanent limitations, they continue to live life as best as they can with what they've got. Would you have the guts to do the same if you were in their position? If you know someone with limited mobility, who is using a wheelchair or a used mobility vehicle, show them just how much you admire them by giving them one of these gifts.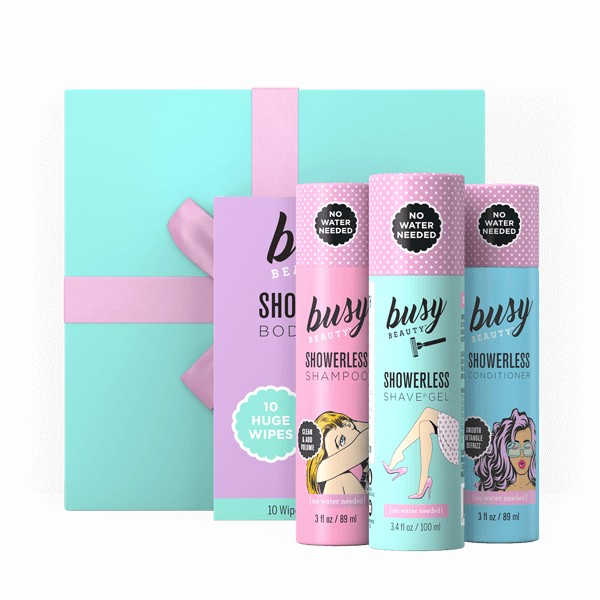 Do you have someone in your life who's constantly on the go? Our Shower in a Box has them covered from head to toe! Each gift box contains one Showerless Shampoo, one Showerless Conditioner, one Showerless Shave Gel, and a box of 10 Showerless Body Wipes. No time to shower? No problem!
This toning and strengthening system from diet and weightloss guru to the stars, Nikki Haskell, is perfect for use at home and for those suffering from arthritis or limited mobility. A belt connects to resistance cords that attach to cuffs you wear on your wrists and ankles. The cuffs help those who can't fully grip typical resistance bands so that they can still move their arms and legs within their ability and see the benefits of increased flexibility and muscle toning and strengthening through resistance.
Luxor Linens` luxury bedding and bath supplies are the perfect gift for someone with limited mobility. Check out our favorite robe below! They are luxurious and you can add a personal touch of custom monogramming!
Someone with limited mobility can have a hard time keeping their home clean, especially when it comes to pushing a vacuum or mop around. That's why this robotic vacuum/mop combo is the perfect present. It has intelligent navigation system and visual mapping to recognize the type of surface it's operating on. With the ECOVACS App, scheduling cleaning times, setting cleaning modes, and monitoring the cleaning status is easy and won't require much physical effort on the part of the user.
LifeGlider is the first upright, hands-free mobility device. It rides behind the user, letting anyone with mobility, balance or fatigue challenges stay on their feet, on-the-go and in the action at eye level without barriers, needing to grip handles or a walker frame and without the fear of falling. It's been 5 years in development, with 9 patents and patents pending and is available now.
"People love Skylight because we make it absolutely effortless to share photos to the frame. Simply email the photos to the frame's email address, and they magically appear seconds later!
Our frame is built on the passion of sharing memories with loved ones when they can't always be there. We strive to bridge the gap in distance, so send photos from anywhere to the frame with a unique email address and suddenly that loved one won't feel so far away. The ecstatic customer feedback we hear suggests we have created a breakthrough product, and many of our customers say that Skylight is the single best gift that they have ever gotten."
If you're new to the Alexa game, this is the perfect piece of equipment to ease into it. The Echo Dot is a voice-controlled speaker that goes by the name Alexa. You can easily ask it to play your favorite playlists, tell you the weather, call your friend, and plenty of other things that usually involve you moving. It's easy to use and has a very simple design.
Contributors to this article
This post contains affiliate links. Affiliate disclosure: As an Amazon Associate, we may earn commissions from qualifying purchases from Amazon.com and other Amazon websites.