This article showcases our top picks for the
Best Plants For January
. We reached out to industry leaders and experts who have contributed the suggestions within this article (they have been credited for their contributions below). We are keen to hear your feedback on all of our content and our comment section is a moderated space to express your thoughts and feelings related (or not) to this article 
This list is in no particular order.
This product was recommended by David Cohen from Flower Station
If you can keep them indoors in seed trays until they germinate, sweet peas are perfect for sowing right now. Once this has occurred, transfer them to a cold frame or greenhouse with no frost. Sweet peas will grow larger plants if you sow them now to plant later than if you wait until spring. The seeds are quite large and manageable, making them ideal for small hands as well.
---
This product was recommended by Lindsey Hyland from Urban Organic Yield
Strelitzia Nicolai is an excellent plant for January as it thrives well in warm and humid environments. This evergreen perennial has large paddle-shaped leaves that are held upright by thick stems, providing a perfect accent for patios and decks. The sturdy trunk can even reach heights of up to 8 feet when grown in its native environment. During early spring through late winter, the plant produces brilliant white flowers with yellow stamens surrounded by two blue petals. These gorgeous blooms make an excellent addition to any home or garden during the winter months. The White Bird of Paradise is also low maintenance and easy to care for; simply keep soil moist and place in a location with bright indirect light.
---
This product was recommended by Michael Ask from Ledask
Because they can flourish in low light and are very understanding if you forget to water them, peace lilies are a popular choice for indoor gardening in the winter. They also have lovely white flowers that you may use to give your house a bit of class. Peace lilies are a fantastic option for improving the quality of the air within a building because they are also known to help purify the air and remove toxins.
---
This product was recommended by Michael Ask from Ledask
Given their low maintenance requirements and ability to thrive in a variety of lighting settings, snake plants make excellent indoor plants for the winter. They are excellent for enhancing indoor air quality because they also assist in air purification and oxygen release.
---
This product was recommended by Daniel Ask from Nccuttingtools
Another low-maintenance alternative for the winter is pothos plants. They are highly forgiving if you forget to water them and may flourish in a range of lighting situations. Pothos plants are excellent for hanging baskets because of their tendency to trail.
---
This product was recommended by Elisa Bender from RevenueGeeks
In the month of January, you should grow snowdrops. They are pretty and would help elevate your garden's beauty. Such plants produce beautiful nodding blooms in winter and early spring. Snowdrops are charming, and their white color symbolizes peace and the arrival of good news, which in this case is spring. You can plant them under deciduous trees. Ideally, you should plant them in drifts of up to 25 bulbs, spread over the entire month. They are small, delicate plants that are lovely to look at. They can also be planted in bunches to create borders.
---
This product was recommended by Andrew Johnson from Prime Seamless Gutters and Roofing
Are you looking for a plant to grow in extreme winters in January? If yes, I suggest you go for Viola x wittrockiana, better known as pansies. These are bushy and low-growing perennials grown as annual bedding plants. Their flowers are even larger than those of violas and have heart-shaped leaves, which make a striking addition to your garden. The bicolored flowers are darker in the center, which looks similar to a face-like marking. People usually go for this flower in winter because there is not much else to flower, so these plants offer a cheerful display.
---
This product was recommended by Kristi Smith from Honest Brand Reviews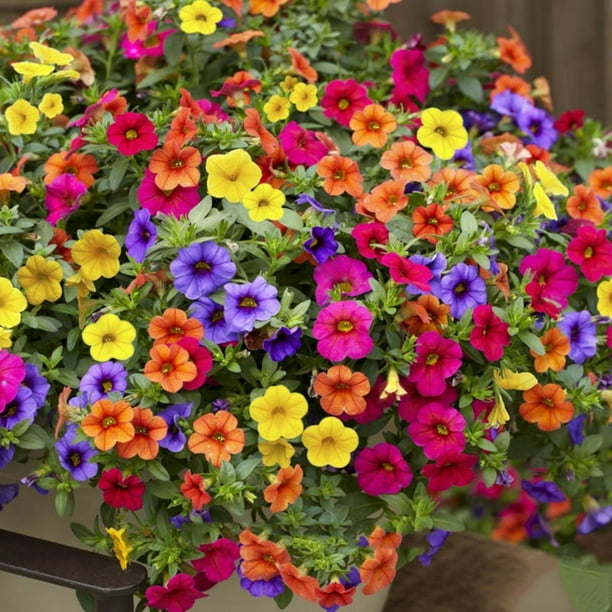 Petunias are the best flowers to grow in January. If you plant them by the end of January, you can expect flowers to bloom by June. Petunias are high-care flowers. They require a lot of sunlight, so make sure to pick a sunny spot in your garden. They don't like overly moist soil, so ensure proper drainage. These flowers will bloom all the way until winter. They have a very sweet scent, which is why they're very popular.
---
This product was recommended by Jessica Kats from Soxy
The Ivory Prince plant is excellent as it thrives in winter. Hence, January will be an ideal month to have it around. Apart from being beautiful, the Ivory Prince plant is known to treat terminal illnesses if consumed. Moreover, it's perfect for creating boundaries in gardens. Also, the maintenance is not too much, so you don't need to worry about that. The flower itself is white, while the leaves give off an ombre red and green effect.
---
This product was recommended by Aviad Faruz from Faruzo
Asparagus is the best plant to grow in the winter. This plant's peak season is spring. This is a very low-maintenance plant in cold weather. It does not need a lot of preparation to grow in the winter. Asparagus is a very resilient plant; it does not die completely. It starts to grow again after a resting period. You can cut the dead ends of leaves, and they will rise again perfectly. The roots of asparagus are very fragile, so keep them away from sharp tools.
---
This product was recommended by Nikita Burgan from Greenbeard Lawn Care
Winter Jasmine is an excellent choice for January for several reasons. First, it provides a beautiful burst of color during the winter months when many other plants are dormant. Second, it is a hardy plant that can withstand cold temperatures, making it a great choice for gardens in cooler climates. Winter Jasmine is also a relatively low-maintenance plant. It prefers well-drained soil and full sun to partial shade but is fairly tolerant of a range of soil types and conditions. It is also drought-resistant once established, making it a good choice for gardens that receive little rainfall. In addition to its attractive flowers, Winter Jasmine also has a trailing habit that makes it ideal for covering slopes, walls, or fences. Its stems can be trained to climb, making it a versatile plant for a range of landscaping needs. Overall, Winter Jasmine is a great choice for January because it adds a burst of color to the winter landscape and is hardy and easy to care for. It is a versatile plant that can be used in a variety of ways, making it a great addition to any garden.
---
This product was recommended by Riva Caburog from Nadrich & Cohen Accident Injury Lawyers
Planting snapdragons in January requires extra winter care because of the frigid surroundings. While some gardeners argue that this plant struggles to grow in a cold climate, others find snapdragons resistant to winter by withstanding even sub-freezing temperatures. Once taken care of, snapdragons take around eight weeks to grow, which means if you sow them in mid-January, you'll expect to see them bloom at the start of the Spring season in March.
---
This product was recommended by Naheed Mir from RugKnots
One of the best plants for January is the Anthurium Andreanum. This stunning tropical beauty with dark green leaves and a vibrant pink flower is an easy-care houseplant that can thrive in any home or office space. The Anthurium Andreanum is actually a member of the Arum family, so it grows flowers directly on its stalk rather than an inflorescence. It requires low light, warm weather, and soil with good drainage in order to stay healthy and happy.
---
This product was recommended by Sholom Rosenbloom from Rosenbloom Pest Control
Poinsettias are a classic and popular choice for indoor plants during the winter months, particularly around the holiday season. These plants are native to Mexico and have striking red, pink, or white bracts, which are often mistaken for flowers, that bloom in the winter. The actual flowers are small and yellow, located at the center of the bracts. Poinsettias are known for their long-lasting color, and with proper care, they can bloom for several months. In addition to their colorful bracts, Poinsettias have attractive green foliage and can grow up to 16 inches tall. They prefer bright, indirect light and well-draining soil, and they can tolerate cooler temperatures (between 60-70°F during the day and 55-65°F at night). Poinsettias require regular watering to keep the soil moist, but they are susceptible to root rot if overwatered, so it's important not to let them sit in standing water.
---
This product was recommended by Melanie Musson from Quote
Orchids thrive in protected, regulated, and controlled environments. In most parts of the U.S., they'll do best indoors year-round, making them the perfect plant for January. This orchid, in particular, welcomes the new year with its large, white blooms, signifying fresh life and a clean slate. Orchids require simple care, like watering once a week and fertilizing once a month. They do best when placed in an area with plenty of filtered or indirect sunlight. Even with such easy care, they can bloom for months at a time. Then, following a dormant season, the plant will be ready to bloom again next January.
---
This product was recommended by Alex Williams from FindThisBest
Amaryllis is known for its lush blooms even in colder months. It is ideal for both outdoor and indoor use. It blooms 4 to 7 weeks after planting. It demands patience to grow. I really adore this plant when I plant it outside in my little garden. Indoors, you can grow them in fancy flower vases or pots. However, when you bring the potted amaryllis indoors, keep them in a dry, cool, and dark location. This plant can bear temperatures of around 45 – 60 degrees.
---
This product was recommended by Richard West from PuppyHero
These popular indoor plants bloom in a range of colors and can bloom year-round with proper care. They prefer bright, indirect light and well-draining soil. January is the blooming season for African violets, so they are more likely to bloom during this time. Providing colorful and fragrant flowers to your home.
---
This post contains affiliate links. Affiliate disclosure: As an Amazon Associate, we may earn commissions from qualifying purchases from Amazon.com and other Amazon websites.