This article showcases our top picks for the best laptop stands for posture. We reached out to industry leaders and experts who have contributed the suggestions within this article (they have been credited for their contributions below).
We are keen to hear your feedback on all of our content and our comment section is a moderated space to express your thoughts and feelings related (or not) to this article This list is in no particular order.
This product was recommended by David Martin from Smart Furniture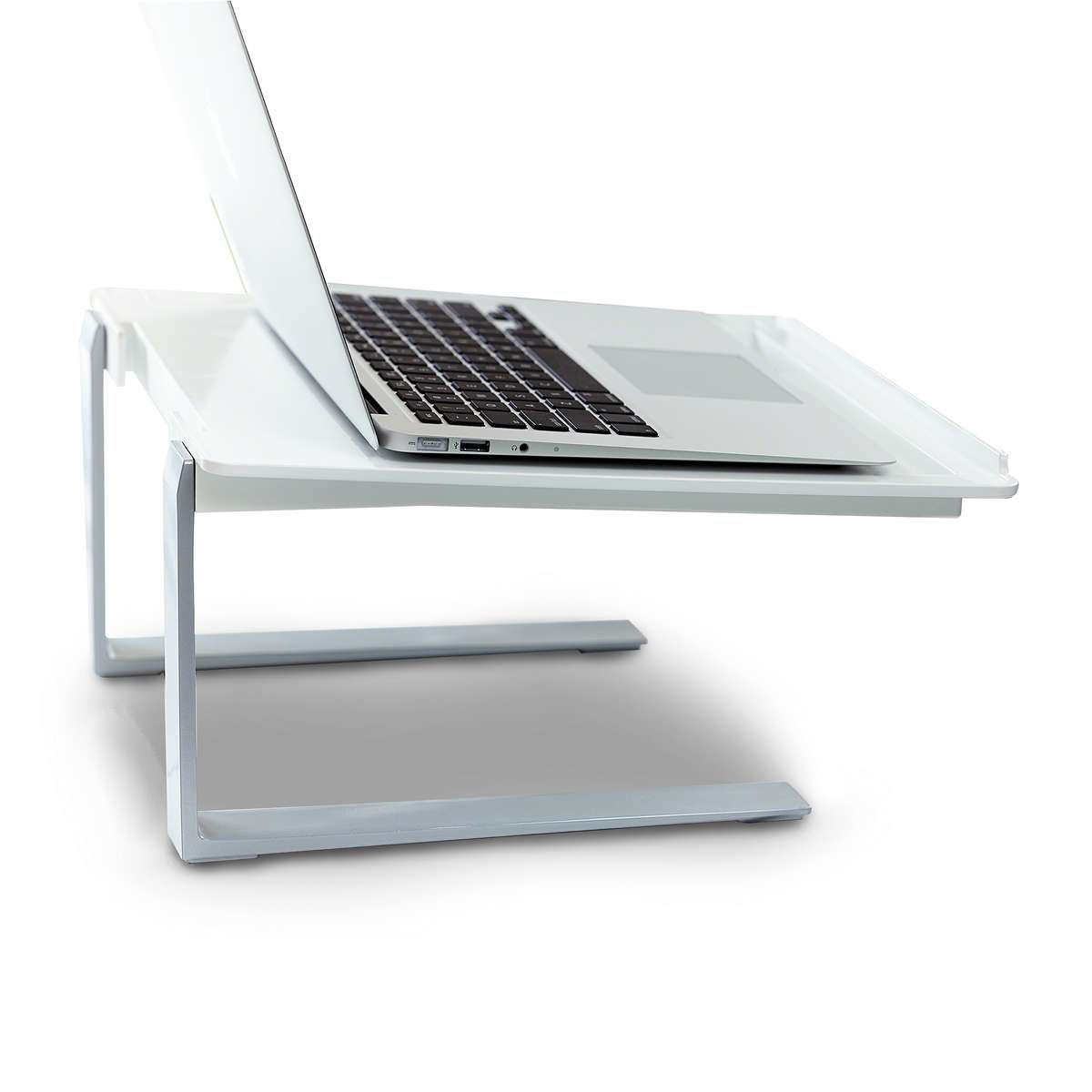 If you need a laptop stand that can go wherever you need it to, the SOTO Freestanding Laptop Stand is for you. Lightweight, stylish, and perfect for keeping good posture, this laptop stand is ready to travel with you as soon as it's unboxed.
---
This product was recommended by Derek Mora from BAX-U
A portable and adjustable laptop /computer table for comfort while working at office or at home. Ergonomic Design The Adjustable Laptop Bed Table has sturdy and fully adjustable legs so you can reshape it to any height you want. The collapsible frame provides limitless angles to fit any body position. Organized Work Space The Laptop table is perfect when you need to use more than one monitor or computer for your projects. Make your workspace more organized and comfortable. Multi-function You can use the ergonomic table as a dinner table, reading holder, writing desk and TV stand. A mouse plate allows you to freely move your mouse that makes your work easier. 2 cooling fans protect your laptop from overheating. 2 adjustable board clips suit different sizes of computers. Protect Your Health With our adjustable laptop desk, you can use a computer at your most comfortable position regardless where you are sitting or standing. This table raises your laptop to eye level to save your wrists and neck from terrible posture, so it will protect your body from neck pain and shoulder stress.
---
This product was recommended by Lindsey Nubern from NuventureTravels
My husband and I have been traveling the world and working as digital nomads since 2014 living and working in Airbnb's, our campervan in New Zealand, and our Casita Travel Trailer. Adam, my husband, is a CPA and I'm an author. To protect our backs and our posture, we each got the Roost Stand that brings our laptops to eye level. We don't have back or shoulder pain using it like we did without it hunching over our laptops. Whenever we're working in coffee shops we always have several people come up and ask us about our stands.
---
This product was recommended by Levi Li from Best.wiki
Working while traveling can cause havoc on the back, neck, and posture. However, if you are consistently hunching over the laptop throughout the travel or even at a coffee shop, this Nexstand Portable Laptop Stand for Posture is the best solution. With a weight of around 249-gram, it is the least heavy stand out there. Also, it can fold up to a small fraction of the full size so that it can fit any bag. Although it is light and slim, the fiber-glass-strengthened nylon frame can hold laptops that weigh around 9kg. At the same time, its rubber feet stop this stand from sliding on the surfaces of the desk. With 8 elevation levels to pick from, there is no reason to hunch again. On the whole, this laptop stand is perfect for posture. And, you can get one to keep your posture in a good condition while working.
---
This product was recommended by Karen Lee from Things Around The House
This laptop stand is adjustable so you can get it where you need for perfect posture. You don't need a hundred different adjustable features on your laptop stand, you just need one so you can address bad posture. This stand does that for you, whether you're sitting at your desk or standing up.
---
This product was recommended by Jonathan Prichard from Mattress Insider
Slouched back, strained eyes, and kinky neck while working on a laptop – all of which can be avoided by a simple slouched-proof laptop stand that will help to improve posture. I keep reverting back to using this stand as it has bettered my posture and made my arduous work more comfortable. Rather than being bulky or having a heavy footprint, this is sleek and portable enough to carry around while traveling. It has slip-proof rubber feet that add to its durability. It's not just sturdy, but also the sleek and minimalist appearance gives an aesthetic look to the workplace. The best thing I found is it is compatible with almost all sizes of laptops and notepads, and an open base provides a way out for airflow and prevents overheating of the laptop. I fell in love with its perfect eye-level height that settled my prolonged neck pain arising from the wrong posture.
---
This post contains affiliate links. Affiliate disclosure: As an Amazon Associate, we may earn commissions from qualifying purchases from Amazon.com and other Amazon websites.