This article showcases our top picks for the Best NAS For Video Editing. We reached out to industry leaders and experts who have contributed the suggestions within this article (they have been credited for their contributions below).
We are keen to hear your feedback on all of our content and our comment section is a moderated space to express your thoughts and feelings related (or not) to this article This list is in no particular order.
This product was recommended by Caroline from CocoSign
I would say that QNAP TVS-882ST3 will be the best NAS/iSCSI IP-SAN Solution. It has 2 Thunderbolt 3 and 2 10GbE ports that result in amazing data transfer speed, as recommended for video data. With multiple streams of 4G data allowing you to proceed towards excellent video editing (even in the case of 4K videos), this tool has the capability to handle multiple workstations, editing on a file simultaneously too. Besides it all, QNAP's this solution has 8GB RAM (expandable up to 32 GB), 1.9 GHz to 2.7 GHz, and an i5 processor. QNAP TVS-882ST3 is compatible with all major video editing tools, and works for Mac & Windows, both. It also had low vibration and heating.
---
This product was recommended by Harriet Chan from CocoFinder
The control panel is well organized, and it offers various functions, from storing my videos and sharing them with my team to even web hosting! There is no much bloatware, and you can stream with Chromecast or if you generally have a smart TV. If you have two or three users in the office with bulk videos to deal with, this Synology handles it. It has 10 RAID setups for your files, and whichever you choose, the performance is never compromised. The failure tolerance is addressed since you have four disks with 40TB of space to utilize. Do you have plenty of files to store? There is a search function to facilitate easy finding. Having the Synology prevents building a chain of hard disks with superb USB connections. Now, all you need is an Ethernet cable to connect it to your local network. It has a 1 GBe LAN port with failover support. That means what will be limiting the speeds on your end is the network card in your computer.
---
This product was recommended by Alina Clark from CocoDoc
QNAP 10 GbE NAS provides: – Incredibly fast networking conditions. – Increased bandwidth. – Improved network capabilities enabling more service rollout and more effective workflows. – Autodata tiering, Snapshot, Workstation Backups, and Offsite Backups are the features available to enhance the efficiency of creative professionals.
---
This product was recommended by Alina Clark from CocoDoc
Synology DS220j NAS product is a multi-version backup solution that safeguards the digital properties on computers and mobile phones from malicious attacks. The DSM UI is an award-winning operating system with an intuitive user interface and sturdy capabilities. The powerful built-in file management and sharing services provide an absolute multimedia solution for management, streaming, and playback.
---
This product was recommended by Alina Clark from CocoDoc
Buffalo TeraStation NAS grade hard drives with a pre-configured RAID system. TeraStation 5810DN delivers excellent performance while performing the everyday functions of NAS and transferring files. Thanks to the powerful Quad-Core processor of Alpine AL314 1.7GHz from Annapurna Labs(r). It is a VMware-ready system with the Rsync feature and supports JBOD, 0, 1, 5, 6, 10 RAID levels.
---
This product was recommended by Jim Costa from Jim Costa Films
As priced: 16 TB total with 4 x 4TB HUS724040ALE640 HGST hard drives. This storage device is designed for smaller business users and home business as well who need access to files easier than storing files in the cloud. The drive has four front-loading, tool-free drive bays, a USB 3.0 port and individual activity indicators on each drive. On the back there's also two 1 gigabit per second (Gbps) throughput LAN ports, a secondary USB 3.0 port, and an eSATA port. The DS920+ is powered by a quad-core 2GHz Intel Celeron J4125 processor and has 4 gigabytes (GB) of DDR4 RAM that can be expanded to 8GB. Two fans keep the unit cool. The slots support 2.5-inch and 3.5-inch SATA or SSD drives and are hot swappable. It also has two built-in M.2 SSD slots for cache acceleration and can be expanded to 144TB using a Synology DX517 Expansion Unit. The DS920+ supports the Btrfs and ext4 file systems and offers several RAID types, including Synology Hybrid RAID (SHR), Basic, JBOD, RAID 0, RAID 1, RAID 5, RAID 6, and RAID 10. For more Synology options, here's a useful and informative guide to the best Synology NAS for video editing.
---
This product was recommended by Jim Costa from Jim Costa Films
Includes an Intel Celeron J4025 dual-core 2.0 GHz processor (burst up to 2.9 GHz), and an Intel HD Graphics 600, 4 GB SO-DIMM DDR4 RAM (Max 8GB), 4 x 3.5-inch SATA 6Gb/s, 3Gb/s (Diskless), 2 x RJ45 Gigabit Ethernet Ports, 4 x USB 3.2 Gen 1 ports, 1 x HDMI 2.0 connectors. The TS-451D2 is specifically meant for home users but can also be used by small to medium businesses. The TS-451D2 is powerful enough to be a 24×7 backup personal cloud right on your local network, or via the internet. 4K media streaming works well with the unit so video editors will be pleased.
---
This product was recommended by Jim Costa from Jim Costa Films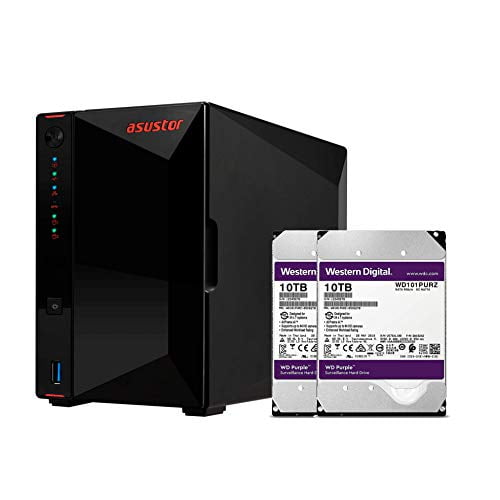 Two 10TB HDD (20TB total) that offer dual tool-free, hot-swappable drive bays and 5GbE with link aggregation, duel 2.5 gigabits per second ethernet connection, two USB 3.2 (Gen 1) ports, 4K UHD decoding, output via HDMI 2.0a, 2GB of DDR4-2400 memory and an Intel Gemini Lake Celeron J400 CPU running at 2GHz. Front connections include both power and quick copy buttons, plus one Type-A 5Gbps USB port, as well as the power and drive status/activity lights.
---
This post contains affiliate links. Affiliate disclosure: As an Amazon Associate, we may earn commissions from qualifying purchases from Amazon.com and other Amazon websites.