Kitchens can be opulently equipped. Tey can also be very bare-bones and basic. But something they should never be is boring for their users.
Before stuffing the kitchen with all the appliance and utensils available on the market, we could do a little research on the subject of gadgets. What you will find is that some tech-minded people already made a gadget that combines or simplifies the functionality of many separate kitchen appliances altogether!
Instead of doing things the old fashion way with the classically designed utensils, why not be a bit more daring? Step up your game by introducing any of these cool gadgets for kitchen use, they can only make your cooking more fun.
If you use a 10 fry pan to cook, this splatter guard is the perfect kitchen gadget for you. It blocks out any oil from splattering and can help to contain vegetables before they're cooked down. This greatly reduces your time and effort needed to clean up after cooking.
This multi-purpose silicone mat can act as a placemat, utensil rest, food cover, pot grabber and even a jar opener! If you cook often, this is a great gadget since there are so many ways to utilise it. Not only that, it is dishwasher-safe and easy to clean. It comes in a 2- and 4-pack with a 10-inch and 12-inch mat.
This would be a super cool gadget for the kitchen! One of the pains of cooking is having to chop up each ingredient one by one. With this hand-powered food chopper from Chef'n, you can now chop anything up with just a pull of the cord.
"With the rise in the meal subscription industry and the rise of the "Foodie," more people are bringing cooking back into their homes. When it comes to knives, wear and tear on kitchen knives is unavoidable. However, most don't know where to begin when it comes to solving this problem.
This is where Knife Aid comes to the rescue. A reinvention of an old trade that will change the way consumers sharpen their kitchen knives, Knife Aid is a fast, easy and convenient online mail-in knife sharpening service that receives, sharpens and returns customers knives within 4-9 days. "
Prepara has everything you need to make your taco meal a state of perfection! Their Multi Taco Holder has a beautiful soft shape for cradling your yummy tacos. Its reversible shape supports 2 or 3 tacos for easy filling and eating. The decorative holder has the look of traditional ceramic with a durable melamine construction. Works with both soft and hard taco shells. Available in blue, red and yellow with a unique graphic pattern, the Multi Taco Holder retails for $6.99.
A top essential for taco night and dinner parties, this dish features three sections for your favorite taco fillings and toppings. It also has lovely decorative patterns, a ceramic look, and a durable melamine construction. Available in yellow and blue, the tray is easy to clean (dishwasher safe).
Great for tacos, burritos, and fajitas, this taco night must-have keeps up to 24 corn or flour tortillas fresh and warm. Easy to clean in the dishwasher, it has a stylish ceramic look and a durable melamine construction.
More fun, less mess! The Prepara Taco Spoons are uniquely designed to make filling and packing tacos easy while creating a celebration. Available in colors that coordinate with the Taco Holders and bowls, the taco spoons are perfectly sized to fit between shells. The flat, elongated bowl of these spoons ensures less mess and more yummy taco enjoyment.
The perfect microwave oven for small spaces. It packs a huge amount of cooking power and versatility into a tiny little package. It's the one we'd choose over all others.
This has all the features that making cooking quick and easy. It's on the larger size but uses technology that makes it stand out from the rest.
Making pizzelle has never been easier than with the Cuisinart WM-PZ2. Even cooking and 5 levels of browning mean the perfect cookie is guaranteed every time. It's one of the best pizzelle presses available.
For the money, this is an amazing buy. It's easy to look after and makes perfect pizzelle.
If you're looking for the top mini freezer on the market then this is it. It's energy efficient, quiet, and so small that you'll barely notice it's there. It's actually very good value for money too.
If you've ever wanted to make your own ice cream, this is the most fun way to do it. All you need to do is fill up one side of it with your ingredients, like heavy cream, sugar, and flavorings. Then, on the other side, you put in ice and rock salt. You can then shake away. You'll have a delicious pint of ice cream right at your fingertips.
If you're tired of standing by sauce or pasta that needs to constantly be stirred, you'll want this little gadget. It sits in your pot and automatically stirs. It also has a built-in timer. It's great for when you have a bazillion other things that need to get done.
Life in the kitchen will never be the same once you start using this food processor: from chopping onions, to shredding cabbage, slicing carrots and even making nut butters, this food processor is powerful and versatile. Easy to clean, and compact, it's a kitchen gadget every cook needs. Don't waste your time chopping and shredding manually when you can use a processor to do it in minutes (sometimes seconds) without any effort.
Are you using utensils that are basically falling a part? It's no wonder your food is lackluster at best. A chef is only as good as their tools. Which is why you need kitchen utensils that are strong and durable. Our Gourmet Kitchen Utensils are made for cooking. With heat-resistant silicone and smooth wooden handles, these kitchen essentials will make cooking feel less of a chore.
Sure, it's shaped like a bird but that doesn't mean this kitchen essential isn't an impressive gadget. Our Lovely Bird Peeler will cut your food prep time in half. Forget spending hours slicing and dicing, this little guy will do all the work for you. Trust us, you need this in your kitchen!
The rumors are true, millennials love pasta. It's delicious and easy to prepare, just as long as you have the right tools. For example, a strainer. You don't have to settle for makeshift lids when you can use our Leaf Shaped Strainer. This kitchen essential clips right onto pots and bowls, so you won't have to worry about spillage.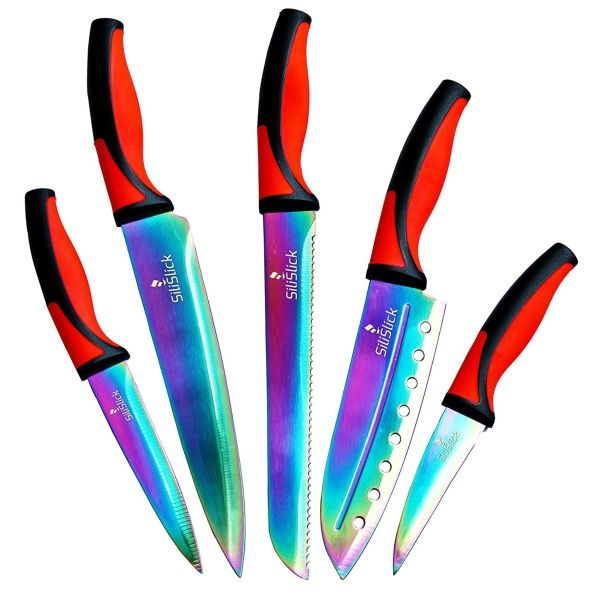 These rainbow blades are like nothing you've ever seen before on a kitchen knife set! They're colorful and will really stand out. Why not bring some decor to your home with these kitchen essentials? Made from quality stainless steel and built to last, these knives are suited for all of your cooking needs – no matter how small or complex those needs are.
The worst part about "healthy" grocery shopping is having to go to the store a week later when your food expires. What's the point in purchasing fruits and vegetables if they don't last? We feel you, which is why we've included our Astro Fruit & Veggie Keeper to this list of kitchen essentials. Not only does this tool look like like a cute little astronaut, but it'll keep your veggies and fruit fresh. You'll be able to save money and eat healthy.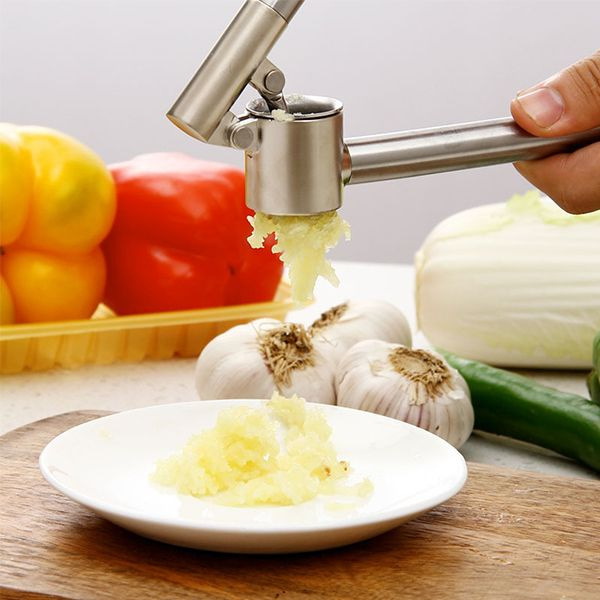 Does your love for garlic run deep? We get it. Garlic is basically the new salt – it makes everything taste so much better. Our Stainless Steel Garlic Press will provide you with the best, minced garlic every time you use it. All you have to do is drop peeled garlic in the hopper, close it, squeeze, and BAM. You'll be living your best garlic life with this kitchen essential.
Contributors to this article
This post contains affiliate links. Affiliate disclosure: As an Amazon Associate, we may earn commissions from qualifying purchases from Amazon.com and other Amazon websites.